The unique and first-of-its-kind technology developed by Gamaya SA in collaboration with Syngenta AG will become the part of the digital technology platform, CROPWISETM.
Gamaya announces that multi-year collaboration with the largest AgTech corporation

Syngenta AG resulted in the launch of the world's first commercial digital diagnostics solution
for nematode pest by Syngenta AG. The unique and first-of-its-kind technology developed by
Gamaya SA in collaboration with Syngenta AG will become the part of the digital technology
platform, CROPWISETM.
The collaboration that started as an innovation challenge very quickly was transformed into a
more scalable project and finally resulted in the integration of this advanced digital solution
within Syngenta's own digital technology platform. The tool has been rigorously tested
through extensive research and trials on 100'000 hectares of soybean fields. The test proved
a high level of reliability and precision. Based on the agreement Syngenta will own this
technology exclusively and will bring it to Soybean growers around the world starting from
Brazil.
Gamaya has leveraged its remote sensing, data science, and agronomic modelling to build
the solution and relied on Syngenta's agronomic and crop knowledge. The resulting
technology relies on a unique Data Science based model that analyses a series of satellite
imagery to detect nematode specific damages.
"The Gamaya team has been very excited to address this technologically complex challenge
and a clear market need in an innovative and scalable solution. We had to build a precise
and scalable solution and, at the same time, find a way to define specifically damages from
plant-parasitic nematodes, among many other stresses that crops may suffer in the field. We
are very proud that these multiple years of R&D efforts have yielded in building the first
scalable and unique solution that will be available as a part of Syngenta's digital offer and
provide great help along with other Syngenta technologies to soybean growers," says Yury
Vasilkov, CEO, Gamaya.
As a result growers will have access to a disruptive remote sensing tool that allows for
large-scale, instantaneous, and reliable nematode damage detection. The nematode
diagnostics tool is based on satellite imagery, and fully automated, that allows scaling the
solution on millions of hectares without limitations.
About Gamaya
Gamaya is a Swiss-based AgTech startup that focuses on delivering automated crop
intelligence at scale. Beyond Soybeans Gamaya`s predictive analytic tools support
sugarcane growers in maximising sugar yield from every hectare of their crop. Growers
widely use Gamaya tools in Brazil, India and the US on a scale of more than 2 Mio hectares
of land. The company develops a new generation of digital tools that would allow Sugarcane
growers to benefit from further reduction of GHG emissions and facilitate soil organic carbon
accumulation restoring soil health and removing CO2 from the atmosphere simultaneously.
Featured Product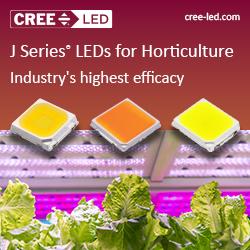 Horticulture and other forms of agricultural lighting require application-tuned ratios of spectral content, high efficacy and long lifetimes. Since these systems are designed to maximize yields for plants and animals, they require different metrics than lighting products designed around the human visual system. Cree LED delivers a wide range of spectral options and products optimized for these applications with leading efficiency and reliability.