Annual Awards Program Recognizes Innovation in Agricultural & Food Technologies Around the Globe
AgTech Breakthrough, a leading market intelligence organization that recognizes the top companies, technologies and products in the global agricultural and food technology markets, today announced that Tidal Vision Products, the leading innovator of chitosan chemistry solutions for the water treatment, textiles, and agriculture industries, has been selected as winner of the "Breakthrough Solution of the Year" award in the 2022 AgTech Breakthrough Awards.

Chitosan is the building block of all insect and crustacean exoskeletons and the cell walls of fungi. Tidal Vision produces chitosan from Trident Seafoods responsibly harvested crab shells. By innovating on the traditional method of extracting chitin from crab shells - the chitin is later converted to chitosan - Tidal Vision is the only vertically integrated chitosan company in the world with a zero-waste production process.
Plant cell walls have a specific receptor that detects the presence of chitosan, which elicits a systemic response throughout the entire plant. Chitosan is a natural biomolecule elicitor which: improves plant health and hardiness, reduces the need for synthetic pesticides, and increases crop yields.
Additionally, chitosan induces numerous biological responses in plants such as biotic and abiotic stress resistance, increased chitinase production, and increased productivity. It's also used in nutrient release applications to synchronize nutrient bioavailability with crop demands, reducing fertilizer requirement and increasing productivity. When applied in soil, it has been shown that chitosan is able to stimulate beneficial chitinolytic microorganisms that inhibit many pathogens and pests.
"We're honored to be singled out by AgTech Breakthrough for this incredible award. Together with this award, we feel that our efforts are finally coming to fruition as the EPA does their final due diligence. We truly feel this will open the floodgates in agriculture, and ag-related water treatment service providers to use chitosan in lots of different ways," said Craig Kasberg, co-founder and CEO of Tidal Vision. "Our focus has been making chitosan more accessible for mainstream adoption by advancing chitosan chemistry solutions. Our ready-to-use chitosan solutions are leading the industry in customization, quality, and consistency."
The mission of the annual AgTech Breakthrough Awards program is to conduct the industry's most comprehensive analysis and evaluation of agricultural and food technology categories, including Internet-of-Things (IoT) and Artificial Intelligence (AI) based agricultural technologies, farm management, indoor farming, food quality, data analytics and many more. This year's program attracted more than 1,600 nominations from over 15 different countries throughout the world.
"Chitosan is a biological and it's gaining momentum as a widely accepted agricultural tool to prevent diseases and infections, as well as a tool to reinvigorate healthy soil biology. However, the traditional process for chitosan extraction was expensive and produced large waste streams. It's in crab shells, most fungal cells and insect exoskeletons as well," said Bryan Vaughn, Managing Director, AgTech Breakthrough. "Tidal Vision has taken a liability byproduct from the seafood industry and turned it into a powerful plant protection solution. They're making chitosan more easily available for advancing crop production. Congratulations on being our choice for 'Crop Protection Solution of the Year.'"
####
About AgTech Breakthrough
Part of Tech Breakthrough, a leading market intelligence and recognition platform for global technology innovation and leadership, the AgTech Breakthrough Awards program is devoted to honoring excellence in agricultural & food technologies, services, companies and products around the world. The AgTech Breakthrough Awards program provides a forum for public recognition around the achievements of AgTech companies and solutions in categories including farm management, indoor farming, FoodTech, automation, IoT and robotics, FoodTech, analytics and more. For more information visit AgTechBreakthrough.com.
About Tidal Vision
Tidal Vision is the only vertically integrated chitosan solution manufacturer in the world, and the only commercial-scale chitosan producer in the USA. The company currently employs approximately 40 people and is headquartered in Bellingham, WA. Founded in 2015, Tidal Vision currently operates 83,000 sq. ft of production space in facilities spanning the USA. Tidal Vision's team of chitosan experts serve the textile, water treatment, and agriculture industry with biopolymer solutions formulated to work with their customers' existing infrastructure. The company provides free performance testing services for their customers to ensure an easy transition for companies switching to their non-hazardous biopolymer solutions.
Featured Product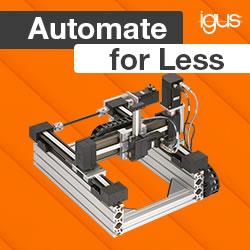 drylin® gantry robots consist of two base X-axes, a Y-axis, and an optional Z-axis. Their self-lubricating plastic liners have been engineered to slide instead of roll and to run smoother and quieter than recirculating ball bearings. drylin® gantries are also lightweight, corrosion-resistant, maintenance-free, and cost up to 40% less than traditional gantry robots. Visit this webpage to learn more.