Trax Carbon Emissions Manager provides emissions data for all shipments, modes, vehicles and regions
Trax Technologies (Trax), the global leader in Transportation Spend Management (TSM) solutions, developed the Carbon Emissions Manager, designed to automatically track and optimize carbon emissions while reducing the cost to serve, which can positively impact all of the food supply chain steps from the farm to the consumer, including global enterprise shippers and logistics service providers (LSPs).

In an effort to provide ag shippers with actionable insights from which to develop baselines to reduce their carbon footprint with a focus on greenhouse gas (GHG) emissions, Trax ultimately provides shippers with the ability to track GHG with freight audit and payment (FAP) to elevate decision making around cost, performance and sustainability within transportation.
The Environmental Protection Agency (EPA) reports that an organizations' supply chain accounts for more than 90% of its emissions. Supply chain executives realize the transportation industry is the largest source for U.S. greenhouse gas emissions, reaching nearly 30%. With this realization, many companies within the transportation and logistics industry are developing programs to lower carbon emissions and reduce their carbon footprint. This helps carriers and the whole supply chain, essentially. With environmental sustainability as a top-of-mind subject, many companies are seeking innovative and sustainable ways to reduce their carbon footprint, while others are simply seeking ways to meet governmental regulations for reducing emissions.
"With the continuing threats to our global environment, an increasing number of CEOs and CFOs are making triple bottom line reporting a vital part of their public commitments. Until now, these leaders have only had access to rough estimates of carbon emissions from transportation without the insights that would help them make decisions that improve the environment. But with Trax's Carbon Emissions Manager, they can see the detailed actual emissions coming from each shipment, based on vehicle, lane and mode," said Josh Bouk, president, Trax. "The ability to track actual carbon emissions across a client's transportation network is phenomenal because it creates a benchmark from which clients can set clean air goals, track progress against their goals, while continuing to optimize the cost of their transportation network via our freight audit and payment suite."
Featured Product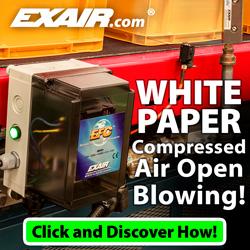 Compressed air is a limited resource that is generated in-house for the benefit of many operations within the manufacturing environment. Learn how to ensure all point of use applications are using your compressed air in the most effective and efficient way possible. Learn how much it costs to produce that compressed air and how Engineered Nozzles can help you use your air more effectively and efficiently.