Precision Farming Market by Technology (Guidance, Remote Sensing and Variable Rate Technology), Offering, Application, and Region (Americas, Europe, Asia Pacific, Rest of the World)
The precision farming market is expected to grow from USD 8.5 billion in 2022 to USD 15.6 billion by 2030; it is expected to grow at a CAGR 7.9% from 2022 to 2030. The most significant factors driving the growth of the precision farming market is the Rapid adoption of advanced technologies in precision farming to reduce labor cost, Increased adoption of Internet of Things (IoT) devices in agricultural fields, Substantial cost savings associated with precision farming, Climate change and need to meet rising demand for food and Increasing promotion of precision farming techniques by governments worldwide.

Precision farming has the potential to transform the agriculture industry by integration of smartphone applications with precision farming equipment. Rising use of A-I based solutions and growing adoption of technologically advanced equipment and tools in agriculture industry.
The Americas region is expected to dominate the overall precision farming market. The growth of the precision farming market in the Americas can be attributed to the higher adoption of advanced technology, increase in R&D activities, and high per-capita disposable income. Increasing labor shortages and high labor costs in the region have led to the adoption of robots and automation to boost productivity and maintain quality standards. Besides, the growing requirement for increasing the productivity from the existing farm areas to meet the demand is fueling the demand for precision farming in the region. The market players in this region are heavily investing in R&D to develop cost-efficient and highly productive precision farming technologies. Such factors have led to the growth of the precision farming market in the Americas region.
The precision farming market for hardware is estimated to hold the largest market share in 2030. The growth of the market can be attributed to high adoption of automation and control devices such as drones/UAVs, GPS/GNSS, irrigation controllers, guidance and steering systems, yield monitors, and sensors in the agriculture industry. When control devices are integrated with sensing and monitoring devices, including various types of sensors and yield monitors, a complete precision farming system is formed. Remote sensing plays a significant role in gathering and monitoring farm-related information, facilitating decision-making and optimal usage of resources. Farm management software (software systems) is used to interpret and analyze the gathered data and create a pictorial representation of the information
Featured Product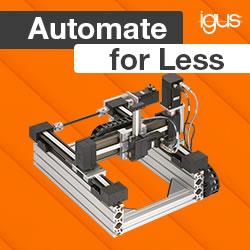 drylin® gantry robots consist of two base X-axes, a Y-axis, and an optional Z-axis. Their self-lubricating plastic liners have been engineered to slide instead of roll and to run smoother and quieter than recirculating ball bearings. drylin® gantries are also lightweight, corrosion-resistant, maintenance-free, and cost up to 40% less than traditional gantry robots. Visit this webpage to learn more.