-This 10,000-square-foot facility in North Carolina allows Solectrac to scale operations as it continues to expand its nationwide dealer network. -Nolan manufacturing will produce Solectrac's e25 electric tractors with additional models slated for future production.
Solectrac, makers of electric tractors and an operating company of Ideanomics (NASDAQ: IDEX), today announced a partnership with Nolan Manufacturing establishing an east coast production facility to meet the increasing demand for electric tractors across the country. The 10,000-square-foot facility in Denton, NC broadens Solectrac's service for east coast customers and reinforces the company's continued nationwide growth.

Solectrac Partners With Nolan Manufacturing to Meet Increasing Electric Tractor Demands
Solectrac Partners With Nolan Manufacturing to Meet Increasing Electric Tractor Demands
Since Ideanomics' acquisition in June 2021, Solectrac has grown significantly, adding several dealers throughout the United States, including three recently added on the east coast in Alabama, Florida and Georgia. Partnering with Nolan Manufacturing increases Solectrac's production capacity in support of its growing dealer network. The primary production at Nolan Manufacturing is Solectrac's e25 electric tractor, with additional models planned for future production.
"As the demand for Solectrac's electric tractors continues to increase, I'm excited about our persistent progress on the East Coast towards a more sustainable future and regenerative agriculture," said Mani Iyer, Solectrac CEO. "With a 10,000 square foot manufacturing facility, 57 acres and three new buildings, we are ramping up production quickly and will be able to deliver tractors to dealer partners expeditiously and provide more efficient services to existing customers. As we achieve full production capacity, we are focused on making hiring and training a top priority."
Nolan Manufacturing has over 50 dealers from Maryland to Georgia, with four equipment dealerships in North Carolina. They are producers of equipment and landscaping trailers with plans to expand production and distribution operations to include farm tractor implements, alongside the distribution of Solectrac tractors.
"It's exciting to be in a partnership that will support Solectrac with meeting the growing demand for their tractors," states Chris Biesecker, owner of Nolan Manufacturing. "The demand for Solectrac tractors is growing on the East Coast, and we're proud to do our part in providing the market with the economical and environmentally friendly Solectrac tractor." Chris has worked in equipment retail for over 30 years and will oversee the day-to-day operations of Solectrac tractors.
About Solectrac
Solectrac, Inc., located in Northern California, has developed battery-powered, electric tractors for agriculture and utility operations. Solectrac tractors provide an opportunity for farmers around the world to power their tractors by using the sun, wind, and other clean, renewable sources of energy. The company's mission is to offer farmers independence from the pollution, infrastructure, and price volatility associated with fossil fuels.
About Ideanomics
Ideanomics (NASDAQ: IDEX) is a global group with a simple mission: to accelerate the commercial adoption of electric vehicles. By bringing together vehicles and charging technology with design, implementation, and financial services, we provide solutions for the commercial world to commit to an EV future. To keep up with Ideanomics, please follow the company on social @ideanomicshq or visit: https://ideanomics.com.
Featured Product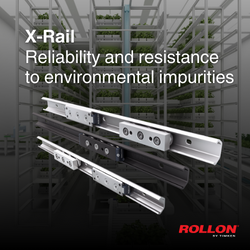 Rollon's X-Rail linear rails are a reliable solution in environments susceptible to impurities. Equipped with rolling elements with shaped and flat raceways, they are available in several versions: galvanized, nitrided or stainless-steel sheet metal. The latter version ensures total corrosion resistance, which is critical for hostile environments such as those found in vertical farming. Particularly innovative is the T + U configuration of the X-Rail linear rails, which can compensate for the parallelism errors of mounting surfaces. This simplifies installation and reduces costs.