DataFarming will help farmers take advantage of the world's most detailed satellite imaging and AI tools for crop health monitoring and sustainability efforts
Today, Pixxel, an emerging leader in cutting edge earth-imaging technology, announced an early adoption partnership with Australian cloud-based agritech company DataFarming. Using Pixxel's hyperspectral dataset, DataFarming will be able to monitor crop health at new speeds and greater resolutions compared to the multispectral imaging on behalf of tens of thousands of farmers.

Pixxel's constellation of hyperspectral satellites have the potential to make agriculture more efficient, sustainable, and automated. The images from Pixxel's growing constellation of satellites provide 8x more information and 50x better resolution than existing in-market options. The images allow for in depth analysis of plant and soil biophysical and biochemical properties, allowing farmers to track these properties over the course of the growing season to improve their crop performance.
"This partnership with DataFarming will demonstrate how hyperspectral satellite imagery will revolutionize agriculture by giving farmers access to a new caliber of analytical tools powered by insights from space," said Pixxel co-founder and CEO Awais Ahmed. "Pixxel's satellites will help farmers make better and faster decisions by providing a new scale and resolution to the monitoring of crop and soil health."
"We have been well serviced by multispectral data for over 20 years, and in fact we have 28,000 farms on the DataFarming platform who access it on a regular basis. However, when we want to dig deeper, there are two main issues: spatial resolution and spectral resolution," said Tim Neale, Managing Director at DataFarming, "As we move into the age of automation and increasing farm size, technology is going to need to fill the gap of determining crop issues earlier; and this is where hyperspectral data and parallel research comes in. And this is likely the 'tip of the iceberg' as to what's possible with regularly captured, high spatial and spectral resolution data."
The new partnership will allow Pixxel to continue their mission of building a health monitor for the planet using advanced hyperspectral technology. Most recently Pixxel successfully launched their satellite as part of SpaceX's April payload and raised a $25M Series A to expedite the development of even more satellites.
About DataFarming
Most farmers and agronomists find accessing relevant and accurate precision agriculture (PA) data difficult, costly, and complex. On-ground application is suffering, and before DataFarming came along, only 4% had looked at a satellite image of their farm. But now, their digital platform services 40% of Australian grain farms - and is in the top 5 of precision agriculture platforms used globally, covering 120,000 fields across 50 countries, and 35M acres of processed data. DataFarming is an Australian based ag-tech company created in July 2017 by leading PA specialists, Tim and Peta Neale. Its core purpose is to remove the barriers to adoption of digital data use. DataFarming provides new and innovative methods for delivering products and services to farmers and agronomists as simple, automated, low cost products with direct on ground actionable solutions. For more information visit www.datafarming.com.au of Follow on Twitter and LinkedIn
About Pixxel
Pixxel is building a health monitor for the planet by creating the world's highest resolution commercial hyperspectral satellite constellation. Co-founded by then 20 year olds Awais Ahmed and Kshitij Khandelwal in 2019, Pixxel has worked with notable organizations such as the Indian Space Research Organization, NASA JPL, Lockheed Martin, and the US Air Force among other space stalwarts. Pixxel is based in Los Angeles and Bengaluru, India and is backed by Lightspeed, Radical Ventures, Relativity's Jordan Noone, Seraphim Capital, Ryan Johnson, Blume Ventures, Sparta LLC, growX ventures, Inventus Capital, and Omnivore VC among others. For more information visit www.pixxel.space or follow Pixxel on Twitter and LinkedIn.
Featured Product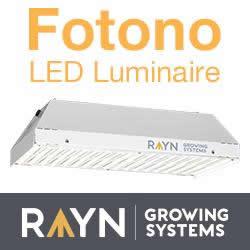 Fotono is a full spectrum LED horticultural luminaire designed to directly replace HPS lights in greenhouses. At 12 pounds, 20 inches long, and 5 inches high, Fotono's compact size makes installation simple while minimizing structural burden on greenhouses. This compact fixture packs energy-saving and yield-improving features, such as a high output, stepless dimming, advanced spectral capabilities, and more.