Combining Internet of Things technology with predictive water-quality monitoring solutions, two French companies are helping clam farmers of the Gulf Coast of Florida manage key aquaculture parameters so they can make decisions that boost production and sustainable farming.
Florida Gulf Coast Clam Farmers Using LoRaWAN® Network Deployed By Kerlink & Bioceanor to Monitor Water Quality, Improve Yields

Partnership with a University of Florida Institute Provides Data That Allows Producers
To Document Crop Losses & Identify Environmental Trends
PRESS RELEASE
June 28, 2022 - 6:00 p.m. CEST - Combining Internet of Things technology with predictive water-quality monitoring solutions, two French companies are helping clam farmers of the Gulf Coast of Florida manage key aquaculture parameters so they can make decisions that boost production and sustainable farming.
Supported by the University of Florida's Institute of Food and Agricultural Sciences (IFAS), the LoRaWAN-based water-quality monitoring station near Cedar Key, Fla., was designed and deployed by Kerlink (AKLK - FR0013156007), a specialist in solutions dedicated to the Internet of Things (IoT), and Bioceanor, an expert in predictive water quality monitoring solutions for coastal environments and aquaculture.
The station features Bioceanor's cloud-based, plug-and-play and autonomous AquaREAL system and sensors from the French company, Aqualabo. At Cedar Key, the continuously monitored data is transmitted in real-time to a dashboard accessible by the public via a Kerlink Wirnet™ iFemtoCell-evolution gateway, which enabled easy installation and broad-enough coverage for this tailored application. Larger applications require an industrial-grade Wirnet iStation.
"The Bioceanor water quality monitoring station provides continuous information on water temperature, salinity, and dissolved oxygen for clam growers in Cedar Key, allowing them to make timely and informed management decisions," said Leslie N. Sturmer, of the IFAS Shellfish Agriculture Program. "With this information, clam growers can refine and improve management practices, compare crop losses with water-quality events, provide documentation for crop losses, and identify trends in environmental conditions critical for clam health and production."
In addition to providing farmers with continuous information on key parameters for ongoing farm management, the data informs their decisions such as the best lease sites to select based on water salinity, dissolved oxygen, pH levels and temperature. In addition, the data helps them anticipate extreme events that require clam-preservation actions.
"We have deployed Kerlink gateways in several continents and they have always been a reliable hub to gather data from our IoT water-quality devices," said Charlotte Dupont, CEO of Bioceanor, which is based in Valbonne, France. "We can use local sim cards to provide a continuous service to our customers. This deployment in Florida where the data arrives in real-time on their website for public information is highly reliable with Kerlink devices."
"Kerlink and Bioceanor's installation at Cedar Key is another on-point example of the responsive and robust applications that LoRaWAN® technology offers to aquaculture producers around the world," said Romain Weryk, Kerlink key account manager. "And in addition to helping smart-farming practices, this project supports university-level integrated research, education and extension for the economic benefit of the shellfish aquaculture industry in Florida."
Kerlink announced earlier this year that its gateways also are at work in a water-quality monitoring system for the island nation, Mauritius.
About Kerlink
Kerlink Group is a leading global provider of end-to-end connectivity solutions for designing, deploying, and operating public & private low power/wide area (LPWA) Internet of Things (IoT) networks. Its comprehensive product portfolio includes industrial-grade network equipment, best-of-breed network core, operations and management software, value-added applications and expert professional services, backed by strong R&D capabilities. Kerlink specializes in enabling future-proof intelligent IoT connectivity for three major domains: Smart City & Quality of Life - urban operations, utilities & metering, retail & public places, infrastructure & hubs, health; Smart Building & Industry - buildings & real estate, industry & manufacturing, asset monitoring & tracking, and Smart Agriculture & Environment - precision agriculture, cattle monitoring & farming, environment & climate, and wildlife protection. More than 200,000 Kerlink installations have been rolled out with over 350 clients in 70 countries. Based in France, with subsidiaries in the US, Singapore, India and Japan, Kerlink is a co-founder and board member of the LoRa Alliance® and the uCIFI Alliance™. It is listed on Euronext Growth Paris under the symbol ALKLK.
For more information, visit www.kerlink.com or follow us on our social media - Twitter @kerlink_news, LinkedIn #Kerlink, YouTube - Kerlink
Bioceanor
Bioceanor provides predictive water quality monitoring solutions for coastal environment and aquaculture. Bioceanor is an expert in biological computing and combines expertise in biology and in data science (AI, machine learning) dedicated to water quality. They have developed a unique set of water quality prediction algorithms, including dissolved oxygen forecast 48h in advance. Anticipating such parameters is of particular importance for a good and sustainable aquaculture farm management, and to understand the best stress factors on fragile ecosystems (coast, lagoons, lakes, …). Bioceanor needs to have real-time and reliable data to feed the algorithm and to deliver forecast in real-time. For that they rely on Kerlink iStations and iFemtoCell to send data from their water quality sensors devices (AquaBox or AquaBuoy) to their analytics platform (AquaREAL). Visit www.bioceanor.com
Press and market analysts contact:
Mahoney Lyle
Sarah-Lyle Dampoux
+33 6 74 93 23 47
sldampoux@mahoneylyle.com
Investors contact:
Actifin
Benjamin Lehari
+33 1 56 88 11 25
blehari@actifin.fr
Financial press contact:
Actifin
Isabelle Dray
+33 1 56 88 11 29
idray@actifin.fr
Bioceanor Contact:
Charlotte Dupont
09 86 73 36 47
charlotte.dupont@bioceanor.com
Featured Product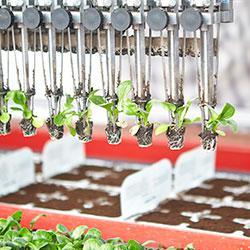 "Smart farming" is an important part of the answer to this existential question: Extremely high efficiency in food production through the targeted use of the latest technology, computer-supported and - where possible - fully automatic. Seeds are individually and precisely placed; fruits carefully picked by mechanical grippers; fertilizers and plant protection products applied in small doses and in a targeted manner. These operations require a large number of small electric motors that are both robust and powerful.