Satlantis LLC and Agriculture Intelligence, Inc sign Memorandum of Understanding for technological innovation and aligned business interests using advanced satellites and artificial intelligence to meet precision agriculture needs.
SATLANTIS LLC (SATLANTIS) and Agriculture Intelligence, Inc (AgIntel) announced a collaborative initiative with leading industry experts to combine agriculture intelligence and high resolution satellite monitoring with hopes to enhance current crop evaluation techniques for growers significantly. In late May, SATLANTIS successfully launched a satellite from the Cape Canaveral Force Station on board a SpaceX Falcon 9 rocket.

"To see two of Florida's major industries, aerospace and agriculture, partner to advance the scientific technology for the benefit of our growers, many of whom are struggling to make their bottom line, is significant and exciting," says Karl LaPan, Director of UF Innovate | Accelerate. Both SATLANTIS and Agriculture Intelligence are resident clients at UF Innovate | Accelerate at The Hub, one of the University of Florida's business incubators.
SATLANTIS designs and manufactures very high-resolution earth observation payloads for small satellites, whereas Agriculture Intelligence produces computer vision and artificial intelligence cloud software that provides inventory, health, and nutrient values for specialty crops.
SATLANTIS is a global reference for space technology applied to Earth observation; unique in the market for its specific characteristics of agility, spectral resolution, and VHR image quality.
Agriculture Intelligence, Inc. is on a mission to provide the most advanced, proven, and market-ready agricultural solutions that leverage big data, machine vision, automation, and artificial intelligence through its flagship cloud-based platform, AGROVIEW (http://www.agroview.ai).
Both companies count on highly-advanced engineering technologies that provide, assemble, assess, or produce highly accurate and refined informatics that diagnose agricultural and environmental signals.
"This collaboration demonstrates the multidisciplinary excellence between UF research institutes," said Dr. John Byatt, associate director of UF Innovate | Tech Licensing. "Who would have imagined an astrophysicist and an agriculture leader working together to boost economic development for the state of Florida? But that is exactly what they are doing."
The two company leaders made their collaboration official by signing a memorandum of understanding. They have agreed to identify new requirements for remote-sensing capabilities, using high-resolution satellite imagery analysis for cropland and exploring mutually beneficial commercial opportunities with end customers within the agriculture sector in the U.S.
"This collaboration will allow us to accelerate the use cases of the satellite infrastructure that we aim to develop and to focus on the design and manufacturing of optical sensors that fulfill those customers' requirements, using the ample benefits of Agroview for leveraging our technology offer to the agriculture market in the U.S.," said Aitor Moriñigo, executive vice president of SATLANTIS LLC.
Both companies see a market opportunity in the new synergies of up- and downstream earth-observation segments to generate added value for the agriculture sector, maximizing the business potential of agricultural satellite solutions to answer specific user needs and environmental challenges.
"Scale remains the major challenge in agriculture. Agroview provides full-field proven products that solve the scale problem with drone- and ground-based sensors," said Matthew Donovan, CEO of Agriculture Intelligence. "Satellite images have always lacked the resolution. We think Satlantis' advancements will change that. This collaboration could unlock a new level of scale that agricultural stakeholders have been seeking for years."
This strategy comes at a time when SATLANTIS LLC has widened its horizons and is ready to offer more satellite-based applications to the customers such as energy, infrastructure monitoring, agriculture, and others.
Featured Product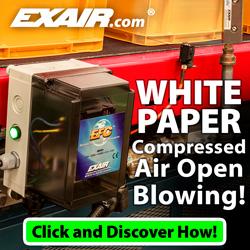 Compressed air is a limited resource that is generated in-house for the benefit of many operations within the manufacturing environment. Learn how to ensure all point of use applications are using your compressed air in the most effective and efficient way possible. Learn how much it costs to produce that compressed air and how Engineered Nozzles can help you use your air more effectively and efficiently.