Cost and waste saving tool offers instant actionable insight for better control and performance
Light Science Technologies (LST) has announced the launch of sensorGROW, an all-in-one growing intelligence tool aimed at giving indoor farmers better environmental control while saving costs and reducing waste.

Ideal for any controlled growing environment including greenhouses, polytunnels, vertical farms and containers, sensorGROW is designed to make profitable year-round growing a reality using the latest smart technology. It brings together real time environment, crop performance, third party and key business data to provide instant actionable insight to growers, helping them to make business decisions with confidence.
Grow with more intelligence
sensorGROW enables growers to monitor and control their environment by measuring key airzone and rootzone parameters. Overtime, sensorGROW's analysis of the growing environment is expected to arm users with knowledge of their crops' health far in advance of when would be humanly possible through traditional observation. This deeper insight to performance means results can be forecast.
Actionable growing intelligence also enables customers to identify problems or opportunities, the clear benefits being reduced food waste, decreased energy and increased yield. It also saves money, by allowing growers to spot trends with big data via interactive dashboards,
Sensors = Reliable connectivity
Made up of sensor nodes and a physical gateway, the sensors transmit data packages via LoRanWan (low frequency radio) offering less interference, low battery power and a long range of up to 10km. The sensors connect to a defined gateway which then sends data to the cloud. The data coming from the gateway then connects via ethernet or wireless.
The real time sensor data and historical data can be viewed on mobile devices or desktops via any chosen web browser.
Craig Price, Operations Director at Light Science Technologies, said: "sensorGROW provides a solution for a multitude of crops across numerous environments - from berries to tomatoes to leafy greens. Our tailored solution is specifically for a growers' growing area and creates a starting point to collect environmental data in real time.
"Key growing decisions are often based on an individual's experience; however, insufficient data or covering large areas can lead to growers not getting a complete picture of their environment or missing something that only data can show. We use data and insight from all aspects of a growing environment so that in the future, sensorGROW can make smart, autonomous decisions allowing growers to deliver more profitable yields and de-risk."
More information on sensorGROW can be found on the website here: https://lightsciencetech.com/solutions/sensorgrow/.
To see how it works, visit here: https://www.youtube.com/watch?v=06-zgt9_1TI.
ENDS
About Light Science Technologies Ltd
Light Science Technologies Ltd delivers lighting, science and research-proven plant monitoring technology and software in partnership with world-leading university research teams. We work across multiple indoor applications including vertical farming, greenhouses and poly tunnels across different plant species, delivering the right solution no matter what environment. Our integrated technology solution for Controlled Environment Agriculture (CEA) applications for next-generation scalable farming helps customers grow more with less. For further information, visit: www.lightsciencetech.com. 
About Light Science Technologies Holdings plc
Light Science Technologies Holdings Plc brings together market-leading controlled environment agriculture technology (Light Science Technologies Ltd) and quality led UK based electronic manufacturing (UK Circuits and Electronics Solutions Ltd) to help our customers grow more with less. We specialise in creating and manufacturing bespoke solutions for global clients across agriculture, electronics, audio, automotive, AI technology and pest control industries. 
Featured Product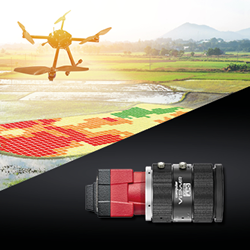 Allied Vision's compact and light weight Alvium SWIR (short wave infrared) cameras are the ideal choice to build cost-effective OEM systems used in embedded and machine vision applications. The cameras support a spectral range from 400 nm to 1700 nm at high quantum efficiencies. This allows to capture images in both the visible and SWIR spectra with a single camera and enables users to reduce overall system costs! Equipped with Sony's IMX990 and IMX991 SenSWIR InGaAs sensors, Alvium SWIR cameras deliver high image quality and frame rates. This makes them well suited for drones or handheld devices used in various industries such as, agriculture, mining, solar cell inspection or medical.