UNLOCKING productivity barriers for British greenhouse growers to support a drive towards net zero is being investigated as part of a ground-breaking aeroponics project.
UNLOCKING productivity barriers for British greenhouse growers to support a drive towards net zero is being investigated as part of a ground-breaking aeroponics project.

A consortium led by LettUs Grow Ltd in partnership with a commerical greenhouse and supported by Crop Health and Protection (CHAP), is collaborating on a project to explore a novel technology for use within controlled environment agriculture (CEA).
The work is focused around LettUs Grow's unique ultrasonic aeroponic technology - a method of growing plants without soil, where roots are suspended in the air and irrigated using a nutrient-dense mist.
The project involves the design and prototype of a fully-functioning advanced Aeroponic Rolling Bench system, which is designed to be added to existing automated growing set-ups found in hectare-scale greenhouses and indoor farms.
Ben Crowther, co-founder and Chief Technology Officer at LettUs Grow, said: "Trials will be conducted with a commercial partner which aim to demonstrate the feasibility of the Bench within a large-scale commercial greenhouse setting.
"With our unique, patent-pending aeroponic technology, crop growth rates can be considerably accelerated, with previous trials demonstrating an increase of between 20 and 200 percent, compared to hydroponic systems.
"This is because plant roots have greater access to oxygen, resulting in healthier plant root stock and faster growth cycles."
During the 21-month feasibility study, part one of trials will take place at CHAP's Vertical Farming Development Centre at Stockbridge Technology Centre, to create a point of reference for the Aeroponic Rolling Bench, compared to commercial hydroponic rolling benches.
Part two of trials will be at a commerical greenhouse, to demonstrate the commercial viability and value at scale.
These trials aim to help reinforce the benefits of aeroponics, which include bed-level control - enabling precise nutrient and water management while maintaining optimum conditions throughout a crop's growth cycle. This can result in improved growth rates and reduced water consumption.
Also, as mist is applied only to the root zone, the growing medium remains dry, so pest and disease pressure is also minimised.
For the first time thanks to this project, it's hoped commercial growers will be able to integrate aeroponic technology to promote increased annual yields, and explore a diverse crop portfolio previously only available to small-scale or containerised systems.
Dr Harry Langford, Innovation Network Lead at CHAP, said: "By deploying Aeroponic Rolling Benches within CEA, the lifetime return on investment can triple, whilst reducing the carbon footprint of fresh produce production by 50 per cent.
"British growers require such support if they are to compete for production of in and out-of-season fresh produce. This project aims to provide them with a much-needed solution to tackle such challenges."
The project is funded by Defra and UKRI through the Farming Innovation Programme (FIP).
For more information about this project, contact CHAP at enquiries@chap-solutions.co.uk or visit www.chap-solutions.co.uk
Featured Product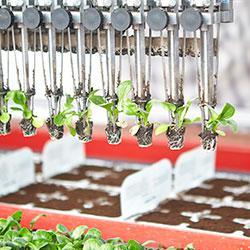 The FAULHABER Linear Actuator L series are designed to provide high performances in compact dimensions, these actuators can support large input speed, high output force and are suited for a wide range of applications like robotics, industrial machines and laboratory equipment.