AgTech specialist Light Science Technologies (LST) will be showcasing its award-winning technology and the latest energy-saving solutions for indoor farmers and growers when it exhibits at GreenTech 2022, RAI Amsterdam on the 14th - 16th June.
Being unveiled to visitors for the first time will be LST's new sensorGROW, harnessing the latest sensor technology and enabling growers to make business decisions with confidence based upon real time and historical data of their growing environment. Overtime, sensorGROW's analysis of the growing environment is expected to enable customers to have knowledge of their crops' health far in advance of when would be humanly possible through traditional observation. Actionable growing intelligence has numerous benefits to customers, allowing them to reduce food waste, decrease energy and increase yield. The exhibition will also provide the AgTech company with the opportunity to seek potential future customers and partners to trial the product.

The show will also serve as the ideal platform to launch its new tuneable LED luminaire from LST's nurturGROW range featuring its pioneering LED grow lighting technology. Ideal for vertical farms and other multi-layer growth applications, the luminaire's slimline design is specifically suited for use in a closed, climate controlled growing facility and can maximise space, thanks to its lower profile and bespoke length. Delivering an efficacy of up to 2.8 umol, it aids reductions in energy requirement and lowering operating costs without compromising performance.
With the choice of nine independent light spectrums, growers can select the right crop recipe, including UVC, to give the flexibility of a tailored option to create the perfect light spectrum for crops through the complete crop growth cycle, at the touch of a button. Introduced to the market last year, the nurturGROW range reduces light wastage with its recyclable and reusable design, making it more sustainable.
During the three-day show, the team will be on stand demonstrating real time and live data, as well as being on hand to share its expertise and offer the latest industry advice.
It will also be revealing initial results from its current tomato trial taking place at Stockbridge Technology Centre where, in conjunction with Crop Health and Protection (CHAP), it is utilising its LED grow light to test low power technology to reduce energy costs while growing vine crops.
Andy Williams, Marketing Director at LST, commented: "We are relishing the opportunity to meet with existing and prospective customers at what will be our first GreenTech. The CEA market is in a rapidly expanding phase of growth, presenting huge potential to indoor farmers and growers. It is a chance for experienced growers as well as newcomers to find out more about the cost-effective and energy-saving benefits LST offers. We're genuinely excited about what the future holds and how LST's game-changing proposition will help shake up the food system and transform the way we produce fresh produce."
Join the Light Science Technologies team on booth 01.765 (Hall 1).
ENDS
Editor's notes:
About Light Science Technologies Ltd
Light Science Technologies Ltd delivers lighting, science and research-proven plant monitoring technology and software in partnership with world-leading university research teams. We work across multiple indoor applications including vertical farming, greenhouses and poly tunnels across different plant species, delivering the right solution no matter what environment. Our integrated technology solution for Controlled Environment Agriculture (CEA) applications for next-generation scalable farming helps customers grow more with less. For further information, visit: www.lightsciencetech.com.
About Light Science Technologies Holdings plc
Light Science Technologies Holdings Plc brings together market-leading controlled environment agriculture technology (Light Science Technologies Ltd) and quality led UK based electronic manufacturing (UK Circuits and Electronics Solutions Ltd) to help our customers grow more with less. We specialise in creating and manufacturing bespoke solutions for global clients across agriculture, electronics, audio, automotive, AI technology and pest control industries.
Featured Product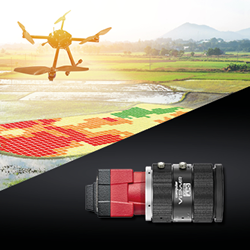 Allied Vision's compact and light weight Alvium SWIR (short wave infrared) cameras are the ideal choice to build cost-effective OEM systems used in embedded and machine vision applications. The cameras support a spectral range from 400 nm to 1700 nm at high quantum efficiencies. This allows to capture images in both the visible and SWIR spectra with a single camera and enables users to reduce overall system costs! Equipped with Sony's IMX990 and IMX991 SenSWIR InGaAs sensors, Alvium SWIR cameras deliver high image quality and frame rates. This makes them well suited for drones or handheld devices used in various industries such as, agriculture, mining, solar cell inspection or medical.