VICTRATO® is a new seed treatment that targets nematodes and key soil borne fungal diseases, increasing the quality and yield of many crops including soybeans, corn, cereals, cotton, and rice
Syngenta Crop Protection's Seedcare business is proud to unveil VICTRATO®, a novel technology with a powerful combination of nematode and disease control for growers looking to increase the quality and yield of their crops and support the long-term health of their soil.

VICTRATO® contains TYMIRIUM® technology, which provides long-lasting protection against all plant parasitic nematodes and key fungal diseases across major crops, including soybeans, corn, cereals, cotton, and rice. Nematodes - a parasitic species that feeds from the root or the plant, to deplete it of nutrients - are present in almost all agricultural soils, attacking crops and opening a path to further fungal infection. They can have a devastating impact, with yield losses of up to 12% globally per year, equating to an estimated loss of $150 billion every year for farmers.
One of the biggest challenges farmers face in managing crop-damaging nematodes, is the invisible nature of the problem. Syngenta Seedcare has unique screening capabilities and innovative mapping systems that detect the presence of nematodes in key markets, including Brazil, the US, China and throughout APAC. This work, in combination with VICTRATO®, helps farmers identify and address nematode problems to deliver productivity improvements.
VICTRATO® enables plants to optimize water and nutrient uptake while increasing stress tolerance and yield, delivering a greater return on investment for the farmer. By protecting the roots, VICTRATO® plays a critical part in enabling no-tillage and conservation-tillage practices and helps preserve biodiversity by not harming beneficial insects, pollinators and microflora. This favorable sustainability profile provides farmers with the option to replace older technologies.
Jonathan Brown, Global Head of Syngenta Seedcare, said, "We are excited to be adding VICTRATO® to our broad portfolio. Syngenta Seedcare was the first to develop a modern nematode seed treatment, with AVICTA®, and now with this new product we are taking our efforts to combat nematodes to the next level. VICTRATO® has an easy-to-use formulation that provides consistent performance without adverse effects to crop or soil health, giving farmers the freedom to maximize their yields without having to compromise on sustainability."
Camilla Corsi, Global Head of Syngenta Crop Protection Research, said, "We are investing significantly in soil health at Syngenta Crop Protection and the development of VICTRATO® is a major step forward in this space and the result of our focused seed treatment research program. Our unique capability to design and screen pipeline leads for nematode control, enables us to develop products that address key crop issues while delivering safe and convenient solutions for farmers."
VICTRATO® will be launched this week at the ISF World Seed Congress in Barcelona. It is registered in El Salvador, with registration expected in Argentina in 2022 and additional registrations across a broad range of crops expected globally over the next five years.
About Syngenta
Syngenta is one of the world's leading agriculture companies, comprised of Syngenta Crop Protection and Syngenta Seeds. Our ambition is to help safely feed the world while taking care of the planet. We aim to improve the sustainability, quality and safety of agriculture with world class science and innovative crop solutions. Our technologies enable millions of farmers around the world to make better use of limited agricultural resources. Syngenta Crop Protection and Syngenta Seeds are part of Syngenta Group. In more than 100 countries we are working to transform how crops are grown. Through partnerships, collaboration and The Good Growth Plan we are committed to accelerating innovation for farmers and nature, striving for regenerative agriculture, helping people stay safe and healthy and partnering for impact.
To learn more visit www.syngenta.com and www.goodgrowthplan.com. Follow us on Twitter at www.twitter.com/Syngenta, www.twitter.com/SyngentaUS and on LinkedIn at www.linkedin.com/company/syngenta
Featured Product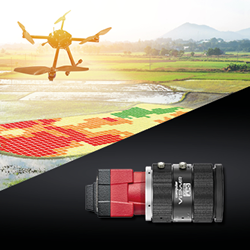 Allied Vision's compact and light weight Alvium SWIR (short wave infrared) cameras are the ideal choice to build cost-effective OEM systems used in embedded and machine vision applications. The cameras support a spectral range from 400 nm to 1700 nm at high quantum efficiencies. This allows to capture images in both the visible and SWIR spectra with a single camera and enables users to reduce overall system costs! Equipped with Sony's IMX990 and IMX991 SenSWIR InGaAs sensors, Alvium SWIR cameras deliver high image quality and frame rates. This makes them well suited for drones or handheld devices used in various industries such as, agriculture, mining, solar cell inspection or medical.