The system combines a scalable hardware device and data visualization software to deliver analytics insights about land productivity and farm efficiency
DELAWARE, U.S. & RIGA, Latvia - Green Growth, the leading developer of real-time yield mapping technology for farmers, releases Green Growth Yield Monitor to make yield monitoring and analysis highly effective and as simple as possible. The system provides real-time data analytics on land productivity which can ultimately help farmers reduce fertilizer usage by at least 10 percent. It allows farmers to feed more people for less, make additional profit, and save and improve the soil for future generations. This agritech innovation will be showcased at the DLG Feiertage expo in Mannheim, Germany, June 14-16, 2022.

Green Growth Yield Monitor collects and analyzes crucial harvesting data across every point of the field with minimal interaction from the farmer. The technology combines the best practices in telematics, data science, and interface building to make hardware integration and software usage seamless. During harvest, yield data is collected directly from harvesting machines and is analyzed and presented in real-time as a heat map. Yield maps play a crucial role in farm management processes enabling optimization of farm inputs, such as fertilizers, seeds, and crop protection products, which are very important elements of sustainable farming.
With Green Growth's solution, farmers can easily and in real-time detect and measure the performance of all their work throughout the season.
Key features and benefits:
• Universal: it can be installed on any age, make, or model of the harvester. The farmer can have a fleet of different machines harvesting the same field, and with Green Growth will get the most accurate yield map;
• Scalable: minimal interaction from end-users. All control is done from the web app, any calibration can be done at any time from anywhere;
• Affordable price: 7-10 times lower than competitors;
• Fast self-installation: under 2 hours;
• High calculation accuracy: 95% or higher.
As populations grow rapidly and global average life expectancy increases, arable land is decreasing. However, the need to feed a fast-growing population means farmers must increase the intensity, and create more with less, rather than growing the acreage of their operations, which may simply not be possible. Given yield is the most important indicator of farm efficiency, this is why it is so important to have truly accurate information about land productivity from each sq m of farmland. Moreover, every year farmers experiment with different seeds and fertilizers to find the best combinations, but even when farmers see the total amount of harvested crops that year's approach produced, that is still not as informative as you'd imagine, as results can vary, even within one field.
This can lead to additional costs for unnecessary fertilizers, seeds, and agrochemical soil analysis. Solving this issue is why Green Growth has developed an affordable hardware/software kit that is easy to install on combine harvesters and measures grain flow through the machine during the harvesting season. Simultaneously, the software creates heat maps, letting the farmer see zones with high and low productivity in real-time while in the office.
Alfiya Kayumova, CEO and co-founder at GreenGrowth explains, "Agriculture is one of the most dynamically developing industries. It is focused on the global challenge of feeding a growing human population with ever-limited scarce resources. Farmers need to increase intensity rather than focus on extensiveness. Yield monitoring is simply essential as an absolute indicator of farm efficiency. This is why it is so important to have accurate and timely information about land productivity from each sq m of farmland. We see our mission as bringing the best cutting-edge technologies to the agri sector. This will ensure farmers have the opportunity to use fewer inputs while generating greater output with the added benefit of respect to long-term soil management and future generations of farmers. We believe we did not inherit the Earth from our parents but are borrowing it from our children."
Dr Evgeny Savin, Green Growth Executive Director and co-founder with a Ph.D. in particle physics says, "The agricultural market is adapting to new technologies very quickly. Self-driving is already common in agriculture, just as it is in mining, and modern tractors or harvesters can have more technology in them than modern cars. Of course, to manage all this technology and work with the collected data, many software apps are being developed. Usually, developers work in big companies with their operation centers, while there are also many great tech startups who create inspiring and impressive solutions. However, the vastness of the solutions can be far too complex for the end-user. One farming season could take a whole year, so there is no time or budget to test every single solution on the market. That's why we try to work closely with farmers, to study their processes and needs before we sell anything to anyone. We want our solution to be as genuinely helpful as possible."
Availability
The business model is based on charges for hardware and a yearly subscription for data access. The system is targeted to any size farm that is involved in crop production. The technology works on every combine-harvester - no matter the brand or year of manufacture.
About Green Growth
Green Growth is a European agtech startup providing precision farming tools. The company was established in June 2021 and since that time continues constantly improving the technology of yield monitoring. The team brought together innovators with rich experience in agriculture, technology, hardware, software, physics, and product. The Green Growth team has been able to significantly decrease production costs of yield monitors, therefore ensuring this technology becomes more accessible, cost-effective and scalable. Moreover, because of its universality, the system can be installed on any age, make or model of harvester within two hours, and can easily be used due to simple calibration. The mid-term strategy sees the startup covering all machines in the crop production chain in order to provide end-to-end analytics to help determine the effectiveness of all stages: from tilling, seeding to harvesting, and based on AI, giving farmers real insight on how to best improve efficiency.
Featured Product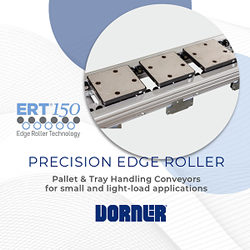 The next evolution in Dorner's Edge Roller Technology conveyor platform, the ERT®150, is ideal for small and light-load assembly automation, as well as medical and medical-device assembly application. The ERT platform is the only pallet conveyor of its kind available with an ISO Standard Class 4 rating for cleanroom applications. Earning the ISO Standard 14644-1 Class 4 rating means Dorner's ERT150 will conform and not contribute to the contamination of cleanrooms to those standards. As implied by its name, the ERT150 (Edge Roller Technology) uses rollers to move pallets through the conveyor smoothly with no friction (a byproduct often seen in belt-driven platforms). The conveyor's open design eliminates concerns of small parts or screws dropping into rollers and causing conveyor damage or jamming. The ERT150 is suited to operate in cleanroom environments requiring a pallet handling conveyor. It is capable of zoning for no or low-back pressure accumulation and is ideal for automation assembly applications within industries including medical devices, electronics, consumer goods among others.