SCALE AI INVESTS $1M TO SUPPORT THE DEVELOPMENT OF A SMART DATA-CAPTURE PLATFORM
GUELPH, Ont. — GoodLeaf Farms is partnering with Adastra and other stakeholders to develop a data-rich platform that will boost the amount of microgreens and baby greens harvested at its climate-controlled indoor farming operation.

The $2.5-million project — which includes a $1-million investment from Scale AI —will enable GoodLeaf and Adastra to jointly develop a smart platform that captures operational growth measurements and image-based data, which will be used to optimize yield and crop quality.
"Innovation and technology are at the heart of vertical farming, and we are always looking to take the next step that will help us grow more and better food," says Barry Murchie, Chief Executive Officer of GoodLeaf Farms. "Data science and technology are the next step, enabling GoodLeaf to continue to be a leader in pushing innovation in agriculture."
GoodLeaf's controlled-environment indoor vertical farm allows local produce to be grown in Canada year-round, no matter the season, climate or weather. The plants are grown in a complex hydroponics system with traditional ebb-and-flow irrigation to feed nutrient-rich water to the plants, and specialized LED lights that are engineered to emulate the red and blue wavelengths of the light spectrum to mimic the spring sun — ideal conditions for plants to maximize photosynthesis.
Because the farm is indoors in an environment that is almost entirely controlled, there are no pests, bugs or birds — and thus no pesticides, herbicides or fungicides are used. It is also environmentally sustainable, using 95 per cent less water than a traditional outdoor farm would.
Adastra, a leading data and analytics firm that provides smart artificial intelligence, big data, cloud, digital and governance services and solutions, will help GoodLeaf develop and implement a process to measure the best growing conditions for each plant, ensuring better quality plants, and more to be harvested in each growing cycle.
"We are delighted to be partnering with Goodleaf Farms, Canada's leader in vertical farming and be having a tangible impact on the farming ecosystem, consumers, retailers and our project partners," says Darren Edery, Chief Executive Officer of Adastra North America. "Upstream partners will benefit from the information generated by this project and be able to develop improved substrates and seeds for vertical farming."
Other partners in the project include the University of Guelph, SunGro and Johnny's Selected Seeds.
Scale AI is Canada's AI supercluster, a consortium of private entities, research centres, academia and start-ups that funds collaborative projects and provides expert advice to help Canada stay ahead of the AI curve.
Follow GoodLeaf Farms on Instagram @goodleaffarms and Like it on Facebook at /GoodLeafFarms.
About GoodLeaf Farms:
With a passion for delicious, nutrient-rich greens, GoodLeaf was founded in Halifax in 2011. Using an innovative technology and leveraging multi-level vertical farming, GoodLeaf has created a controlled and efficient indoor farm that can grow fresh produce anywhere in the world, 365 day of the year. The system combines innovations in LED lighting with leading edge hydroponic techniques to produce sustainable, safe, pesticide-free, nutrient-dense leafy greens. GoodLeaf has ongoing R&D Programs in collaboration with the University of Guelph, Dalhousie University and Acadia University.
Learn more at goodleaffarms.com.
About Adastra:
Adastra transforms businesses into digital leaders. Since 2000, Adastra has been helping global organizations accelerate innovation, improve operational excellence, and create unforgettable customer experiences, all with the power of their data. By providing industry-leading Artificial Intelligence, Cloud, Digital, and Governance services and solutions, Adastra helps enterprises leverage data that they can manage and trust, connecting them to their customers - and their customers to the world. We have a proven track record of delivering enterprise-grade solutions to Fortune 1000 and SME organizations across all industries. More information can be found at www.adastracorp.com.
Featured Product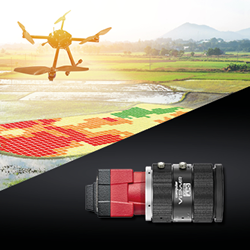 Allied Vision's compact and light weight Alvium SWIR (short wave infrared) cameras are the ideal choice to build cost-effective OEM systems used in embedded and machine vision applications. The cameras support a spectral range from 400 nm to 1700 nm at high quantum efficiencies. This allows to capture images in both the visible and SWIR spectra with a single camera and enables users to reduce overall system costs! Equipped with Sony's IMX990 and IMX991 SenSWIR InGaAs sensors, Alvium SWIR cameras deliver high image quality and frame rates. This makes them well suited for drones or handheld devices used in various industries such as, agriculture, mining, solar cell inspection or medical.