Agrishow 2022 takes place between the 25th and 29th of April in Brazil and aims to launch the main trends and innovations for agribusiness
The International Trade Fair of Agricultural Technology in Action - Agrishow 2022, takes place in its 27th edition in Ribeirão Preto, São Paulo, between April 25th and 29th. The event, the largest in agricultural technology in Brazil and one of the three largest in the world, is recognized for launching the main trends and innovations for agribusiness.

During its last edition in 2019, it brought together almost 160 thousand visitors from more than 90 countries, having received more than 800 exhibitors in 520 thousand square meters. In addition, it has totaled R$2.9 billion in business initiated at the fair.
As the largest agricultural machinery fair in Latin America, Agrishow brings together the main players in the segment including the largest exporters, what makes it an ideal opportunity to learn about the technological scope of Brazilian companies.
It is worth noting that in 2021, Brazilian exports of agricultural machinery and equipment grew by 41% over the previous year, reaching a volume of US$1.3 billion, the highest level since 2017. With a growth of 108% comparing 2021 vs 2020, Paraguay was the main destination for exports, totaling US$266.6 million, followed by Argentina, which in the period presented a volume of 161.2 million, and the United States, which reached US$158.8 million.
In its first on-site year after the pandemic, Agrishow 2022 brings together innovative solutions for all types of crops and property sizes. During the fair, the public will be able to participate in the Agrishow Experience, where lectures take place within the "Agrishow Labs" platform, a journey of strategic content and face-to-face actions.
According to Patrícia Gomes - Director of External Market of the Brazilian Machinery Builders Association (ABIMAQ), this is a highly anticipated moment, especially as a result of the resumption of face-to-face events. "Agrishow 2022 gains even more relevance for the sector due to the challenges we have had in the last two years. The visibility that the event offers its participants - both exhibitors and the public - is essential for the resumption of business and prospects for the export of agricultural machinery and equipment", she explains.
Featured Product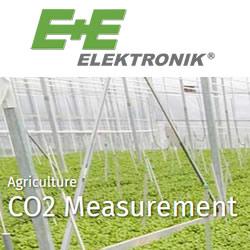 Lowering of energy costs, acceleration of growth and extension of the possible storekeeping duration can be optimised by the precise measurement of humidity, CO2-content and temperature. Optimum basic conditions for animals and plants ensure best agricultural products. As different applications demand various adopted solutions for optimization of agricultural processes, E+E Elektronik provides a broad portfolio of agricultural monitoring products