Leveraging Ginkgo's plant-cell assay and engineering capabilities to aid Light Bio in optimizing the performance of its light-emitting plants
Light Bio, Inc., a company that is creating bioluminescent plants for home and garden, and Ginkgo Bioworks (NYSE: DNA), the leading horizontal platform for cell programming, today announced a collaboration to leverage Ginkgo's plant cell assays for bioluminescence engineering. Through the agreement, Ginkgo aims to help improve the luminescent output and efficiency of the enzymes within Light Bio's glowing ornamental plants.

The scientists at Light Bio have discovered a new type of bioluminescence mechanism and are using synthetic biology to engineer plants to efficiently emit light. The original light emission pathway Light Bio uses in its glowing plants comes from bioluminescent mushrooms, and the company is now focused on expanding its engineering capabilities to support the creation of glowing plants.
"We are excited to collaborate with Ginkgo toward additional multifold output and efficiency improvements powered by Ginkgo's plant cell engineering capabilities across both individual enzyme and metabolic pathway improvements," said Keith Wood, CEO, Light Bio. "Light Bio has already achieved strong light emission results on our glowing plant luminescence to date."
"Nothing captures the wonder of biology quite like seeing glowing plants in person," said Jason Kelly, CEO, Ginkgo Bioworks. "Our platform enables developers to imagine with biology and to design all types of cells, from bacteria and yeast to mammalian and plant cells. We're so excited to bring this unique application onto our platform and to help Light Bio bring the magic of glowing plants to people."
About Light Bio
Light Bio creates novel biodesigns in living light. Through consumer-led applications of synthetic biology, Light Bio is opening new markets with products that have never existed before. Led by a team with deep experience in the development and commercialization of bioluminescence products, the company is sustained by its proprietary technologies backed by a strong patent portfolio. More information can be found at www.light-bio.com.
About Ginkgo Bioworks
Ginkgo is building a platform to enable customers to program cells as easily as we can program computers. The company's platform is enabling biotechnology applications across diverse markets, from food and agriculture to industrial chemicals to pharmaceuticals. Ginkgo has also actively supported a number of COVID-19 response efforts, including K-12 pooled testing, vaccine manufacturing optimization and therapeutics discovery. For more information, visit www.ginkgobioworks.com.
Featured Product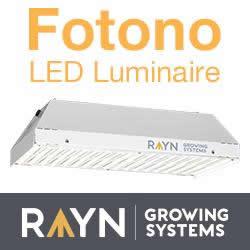 Fotono is a full spectrum LED horticultural luminaire designed to directly replace HPS lights in greenhouses. At 12 pounds, 20 inches long, and 5 inches high, Fotono's compact size makes installation simple while minimizing structural burden on greenhouses. This compact fixture packs energy-saving and yield-improving features, such as a high output, stepless dimming, advanced spectral capabilities, and more.