The ongoing war in Ukraine has an important effect on Greek peach exports, in the context of the sanctions posed by EU to Russia, adding to the existing issues of high prices of inputs for peach production. At the same time, SmartPeach continues to support Greek peach producers in reducing production costs and improving the competitiveness of their product in Greek and foreign markets.
Peach producers in the Region of Central Macedonia, Greece, expect significant losses due to the sanctions recently posed by the EU to Russia in the context of the war against Ukraine. This comes on top of the previous sanctions already posed to Russia after its invasion to Crimea, which had a significant toll on Greek peach exports.

The two countries, along with Belarus, imported almost 25% of the Greek fresh peaches, canned peach and peach juice, referring to a total of 40.000 tones of clingstone peach. For example Ukraine imported about 35.000 tones of Greek peaches on an annual basis, while Russia imported 35% of the total Greek peach juice production.
This issue comes on top of the issues already faced by peach producers, such as the increased prices of inputs such as agrochemicals, gas and electricity, to name a few.
In this context, SmartPeach keeps supporting Greek peach farmers in reducing their production costs, in order to support their sustainability and competitiveness under these adverse conditions. More specifically, the smart farming services of SmartPeach help farmers optimize the use of both agrochemicals like pesticides and fertilizers, and natural resources like irrigation water.
At the same time, SmartPeach through its early warnings allows peach farmers to schedule their agricultural activities in a timely manner and organize them in way that minimizes the use of fossil fuel and other types of energy.
You can learn more about SmartPeach by following it on social media:
Facebook: https://www.facebook.com/SmartPeachGR/
Twitter: https://twitter.com/SmartPeachGR
LinkedIn: https://www.linkedin.com/company/smartpeach/
Featured Product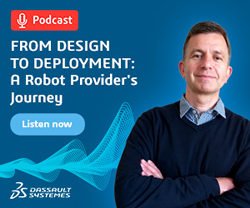 Let's listen to Arvind Krishnan, industry analyst at Lifecycle Insights and Michael Mayr, Industrial Equipment Sales Strategy Expert at Dassault Systèmes. They will discuss the robot industry and how startups can succeed in this market.