With One Easy Upgrade to Sprinkler Reels and Pumps, FarmHQ Provides Huge Savings to Farm Operations, Cuts Down on Stress for Farmers and Their Crews
SKAGIT VALLEY, WA AND HAVANA, IL - Leading traveling irrigation system manufacturer Kifco and CODA Farm Technologies announced today they have formed a North American partnership to bring CODA's FarmHQ® retrofit cellular device and mobile app that provide real-time remote monitoring and control, including automatic pump shutdown, to Kifco Ag-Rain Water-Reels.

Under the partnership, Kifco will begin offering FarmHQ as a pre-installed option on their new water reels. Kifco will also work with its network of dealers and sales representatives in North America to sell FarmHQ to current users of Kifco Ag-Rain Water-Reels.
A universal retrofit option, FarmHQ is a small cellular device and app that lets users of irrigation reels and pumps upgrade their irrigation equipment with one simple installation and put them all on the same monitoring and control system, providing significant financial savings and less stress. FarmHQ works anywhere a smartphone does and provides status updates in real time. Compatible with all irrigation reels regardless of size or age, it instantly updates equipment with brand new features.
Once farmers complete the easy installation, FarmHQ constantly monitors the status and speed of their irrigation reels: tracking run progress, watching for equipment failures, and letting them know when problems occur. When the reel stops retracting for any reason, FarmHQ automatically sends a shutdown signal to the pump. The FarmHQ mobile app and online dashboard gives farmers easy access to this status information and detailed irrigation records.
"We're excited to partner with a respected and trusted name in irrigation like Kifco to bring our technology to more farmers, and help them save money and stress," said David Wallace, CEO of CODA Farm Technologies. "Based on the huge demand we've seen for FarmHQ from farmers who want to simplify their irrigation work, it was clear that working with an industry leader like Kifco was the right step. With this new partnership, we are building a foundation to grow our customer base and product offerings in the years to come."
"Combining the leading monitoring technology to manage irrigation operation with the most trusted traveling irrigation systems in the agriculture industry is an obvious combination and we are proud to work with FarmHQ to help producers manage their Kifco Water Reels in the field," said Allen Mitchel, CEO of Kifco.
FarmHQ devices installed on irrigation reels and pumps provide a 400% to 1,500% annual return on investment through savings on labor, water, fuel, and prevented crop damage. Each FarmHQ system saves up to $15,000 per season by preventing damage to high-value crops, eliminates up to 75 hours of labor, decreases energy costs by up to $650, and conserves up to 500,000 gallons of water each year.
CODA Farm Technologies' FarmHQ devices are already on farms across eight different states and provinces in the U.S. and Canada. In the 2021 irrigation season, the company's devices monitored over 16,500 irrigated acres, saved approximately 21,000,000 gallons of water, and prevented countless accidental flooding events that would have caused costly damage to customers' crops.
In January, CODA Farm Technologies announced a $2.2 million investment round led by Lowercarbon Capital, with Voyager Capital, Arnold Venture Group and Will Canine, Co-Founder of Opentrons Labworks Inc., as the other major participants.
About CODA Farm Technologies and Its FarmHQ System for Sprinkler Reels and Pumps
Founded by third-generation farmers from Washington State, CODA Farm Technologies is a growing agricultural technology company bringing cloud-based automation to agricultural irrigation. Its first product, the FarmHQ platform, lets farmers use their smartphone and an easy-to-install device to remotely monitor and control irrigation reels and pumps in real time to save money and stress. A universal retrofit, it can be easily installed by the farmer on equipment of any make, model, and age and provides remote control, monitoring, and automation for farmers' existing irrigation equipment. FarmHQ is currently being piloted on mobile irrigation systems on farms across North America, and helped save 21,000,000 gallons of water in the 2021 summer irrigation season. To learn more, visit www.codafarmtech.com.
About Kifco
Since its founding in 1964, Kifco has taken great pride in designing, developing, and delivering a comprehensive line of customer-focused traveling irrigation systems, trademarked the Water-Reel. Kifco has earned the name Most Trusted Traveling Irrigation Systems since 1964 and Water-Reels continue to dominate the hard-hose traveler irrigation industry. A family-owned company based in Havana, Illinois,, Kifco manufactures and distributes irrigation travelers of the highest quality and value. Kifco products are sold and serviced by a network of authorized Kifco dealers across North America and abroad. To learn more, visit www.kifco.com.
Featured Product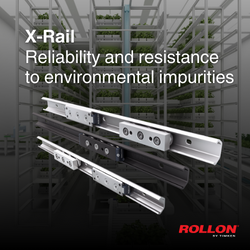 Rollon's X-Rail linear rails are a reliable solution in environments susceptible to impurities. Equipped with rolling elements with shaped and flat raceways, they are available in several versions: galvanized, nitrided or stainless-steel sheet metal. The latter version ensures total corrosion resistance, which is critical for hostile environments such as those found in vertical farming. Particularly innovative is the T + U configuration of the X-Rail linear rails, which can compensate for the parallelism errors of mounting surfaces. This simplifies installation and reduces costs.