Agri-TechE and Missouri continue a beautiful relationship
(Cambridge 18 March 2022) The State of Missouri has the unofficial nickname of the "Show Me State" after a no-nonsense speech by a congressman in 1899, and it is still true today. Governor Mike Parson, a third-generation cattle farmer, came with First Lady Teresa, Chris Chinn, also a farmer and Director of the Missouri Dept of Agriculture, and members of the Missouri House and Senate, to meet members of Agri-TechE and to see for himself the innovation that is emerging from the ecosystem.

Agri-TechE and Missouri Partnership coordinated a successful mission to the Missouri agri-food ecosystem in March 2020, just before the pandemic. This followed a 2019 agri-tech mission from Missouri to the UK. Since that time Agri-TechE and numerous Missouri companies and organizations have been working together to advance agri-tech into the future and build strong connections between the two ecosystems. The Governor's visit, organised by the Missouri Department of Economic Development, is to build on those relationships and explore future opportunities for collaboration.
Dr Belinda Clarke, Director of Agri-TechE, is delighted to meet the Governor and First Lady in person: "Although the pandemic has accelerated the acceptance of many aspects of digital agriculture, farming is still about people and the real world. The mission with Missouri has been invaluable in building business relationships and creating wider understanding of mutual opportunities and we are delighted to progress this with the Governor."
Annually, agriculture is a $94 billion industry in Missouri and nearly 50 per cent of US crop and livestock production is located within 500 miles of the state. The ag cluster includes international ag and food corporations and centres of plant science research including Bayer Crop Science's Global Seeds and Traits HQ. So, Missouri is a good launch point for companies looking to engage with US food production.
"As Missouri's Governor, I look forward to the opportunity to strengthen relationships with business partners in the United Kingdom," Governor Parson said. "For decades, Missouri and the U.K. have enjoyed a unique connection that is both culturally and economically significant. Given the importance of international trade, we're grateful for this chance to promote Missouri agriculture and technology, among other strengths that make the Show-Me State an ideal business location."
The meeting on 18th March 2022 was hosted by the crop science organisation NIAB. Of particular interest to the Governor, who rears beef cattle, is the work on using naturally occurring microorganisms to unlock fertility in soil, improving the nutritional value of grass and reducing the need for inorganic fertiliser.
The 2020 mission was co-funded by the UK government Department for International Trade. Agri-Tech Lead Elizabeth Warham said: "We are delighted that the Governor is taking this opportunity to consolidate the relationships that have been made with many members of the UK's vibrant agri-tech ecosystem and look forward to seeing these collaborations prosper."
"We were delighted to welcome Governor Parson and the Missouri delegation for one of the first US state-level visits to the UK this year," said Alan Gogbashian, British Consul General to the Midwest based in Chicago. "As Missouri's exports to the UK top $1.4 billion, agri-tech represents a rich vein of innovation for both our economies. And Agri-TechE sits at the very centre of our shared ambitions for further growth."
Agri-TechE members meeting the Governor include: Wyld Networks, simplifying sensor to satellite connectivity; Small Robot Company, developing robotics to support a 'per-plant' approach to agriculture which provides timely interventions to ensure crop health; PBD Biotech, developers of rapid blood test for tuberculosis in humans and animals; farmer Robert Smith of Russell Smith Farms along with Bayer, PWC and Cambridge Consultants.
Agri-TechE
Agri-TechE is a business focused membership organisation that supports the growth of a world-leading network of innovative farmers, producers, scientists, technologists, and entrepreneurs who share a vision of increasing the productivity, profitability, and sustainability of agriculture.
The NIAB Group
NIAB is the UK's fastest growing crop science organisation, with rapidly expanding research capabilities in plant genetics, agronomy, farming systems and data science, the largest national field trials capability, and strong research links with industry, Government and academia.
With headquarters in Cambridge, and regional offices across the country, employing more than 400 people across the UK, NIAB provides scientific research, technical services and practical advice to improve the yield, efficiency and resilience of crop production across the arable, forage and horticulture sectors.
The glasshouse visit includes NIAB's research, with Dr Tom Wood - working with CIAT in Columbia to learn more about wild common bean hybrids, including their physical characteristics, genetics, responses to disease and ease of use for breeding programmes. This should help breeders produce better beans in a shorter time and have a positive impact on global food security.
Mike L Parson, 57th Governor of Missouri
Governor Mike Parson and First Lady Teresa both come from farming families. Governor Parson is a third-generation cattle farmer who owns and runs a cow and calf operation near their hometown of Bolivar. Governor Parson has a passion for sports, agriculture, Christ, and people.
Governor Parson sponsored and co-sponsored several landmark pieces of legislation including the Missouri Farming Rights Amendment, a piece of legislation that changed the Missouri Constitution to guarantee all Missourians the right to farm and ranch.
The First Lady is currently serving as a board member on the Missouri State Fair Foundation which is dedicated to cultivating the future of agriculture through preservation and education.
Chris Chinn, Director of the Missouri Department of Agriculture
Ms Chris Chinn is a fifth generation Missouri farmer from Clarence, and a member of the National Association of State Departments of Agriculture (NASDA), which represents the departments of agriculture in all 50 states.
Chinn resides on her family's farm in Shelby County, where she helps manage their 1,600 sow farrow-to-finish hog operation, as well as their family feed mill. Chinn and her husband also have a small cow-calf herd, as well as raise corn, soybean and hay.
Update from two of the mission delegates
Wyld Networks - Eric Hewitson, Satellite IoT Consultant
Wyld Networks simplifies sensor to satellite connectivity. The new generation of low earth orbit (LEO) satellites will very soon provide near global connectivity, and this will offer a huge opportunity to deploy sensors in remote areas where there is little cellular coverage.
Its product, Wyld Connect, enables sensors to send data directly to LEO satellites - at low cost, low energy and minimal investment.
Eric Hewitson comments: "Wyld learnt an immense amount from the Agri-TechE mission to St Louis in early 2020, making great contacts in some of the key companies and organisations and gaining an understanding the immense scale of agriculture in the region. In numerous ways this reframed how Wyld perceived its place and potential in the agri-tech ecosystem.
"Since the mission we have started projects with Bayer and KWS and have many other potential opportunities arising from people and companies we met."
Wyld, in partnership with Bayer, is designing, building and testing a satellite connected beehive lid sensor. The project will gather data from hive health such as temperature, humidity and hive weight and combine this with the lid sensor data. Testing is taking place in beehive sites in the USA, Canada and Germany.
Wyld, in partnership with KWS are testing satellite connected soil moisture sensors with a view to deploying across multiple field assets where cellular coverage is poor or unavailable. The need for connectivity everywhere at low power and low cost is critical for delivering granular data sets over time. Satellite IoT is the solution to meet this data demand.
Small Robot Company - Sarra Mander, CMO
Small Robot Company is developing robotics to support a 'per-plant' approach to agriculture which provides timely interventions to ensure crop health.
Since the mission to St Louis, Small Robot Company has completed its SlugBot project, which aims to develop a robotic system for slug monitoring and identification followed by precision treatment with a new bio-molluscicide. The current chemical slugicide is being withdrawn as it pollutes water supplies and new bio-molluscicide is too expensive for widescale use in arable crops.
Sarra Mander says: "The SlugBot project is successfully complete! We have completed the project to proof-of-concept prototype which involved identifying the slugs with hyperspectral cameras and also training the AI to recognise slugs with standard RGB cameras, these are much cheaper so a real win."
Featured Product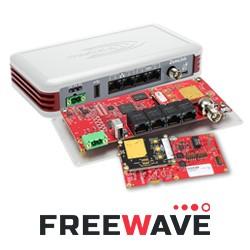 Power even your most remote agricultural operations with real-time data to manage your crops and livestock like never before. With edge intelligent ZumLink IQ radios, you get an all-in-one system that combines sensors, wireless connectivity and process control-without the need for Ethernet or SCADA. So you can enjoy farm-fresh data that's always in season