Igrowth®, the world's first commercial herbicide-tolerant technology for sorghum proves to be very effective weed control technology.
With a growing demand for sorghum, growers require advanced technologies to help improve crop production and maintain a better return on their investments. That is why Advanta Seeds has developed igrowth®, the world's first commercial herbicide-tolerant technology for sorghum globally.

This technology allows farmers to apply registered Imidazolinone group herbicides at the recommended rates to igrowth® sorghum plants without causing them damage. igrowth® will enable growers to have flexibility when applying either pre-emergent or post-emergent sprayings, so it fits various production situations and geographies. The igrowth® sorghum has been widely trialed across multiple seasons and environments to assess performance not only of the herbicide tolerance capabilities but also to ensure it is adapted and performs reliably across them. igrowth®, as a non-GMO technology, has global market appeal and is suitable for exports to countries with GMO restrictions.
Advanta Seeds launched igrowth® in 2017 in Argentina and Uruguay and quickly adapted the technology to South and North America, Australia, and some of the European countries. igrowth® has also been successfully trialed in Asia and Africa, becoming truly a game-changer for sorghum growers.
According to Dean Loftis, Head of Marketing US, 'Sorghum growers can achieve more efficient crop growth and the best value for their sorghum acres with igrowth® technology. This new weed control system minimizes competition for water and nutrients, enabling maximum early-season growth and optimal weed management."
One of the US growers, Greg Price from Kansas, shared his first-year experience with the igrowth® technology - 'We have been growing sorghum in my family over 70 years now. I chose the igrowth® to fight the weeds. The grass and weeds can be hard to fight on my land. That was the reason to use igrowth® to control weeds using IMIFLEX and get nutrients to the crops. Now I am just growing sorghum, not the weeds. So, I have a cleaner field and more production'.
The value of the igrowth® technology for grain and forage sorghum also became quickly recognized by agronomists. Pablo Ferrari, an agricultural engineer, and advisor from Pergamino, Argentina, said: "igrowth® technology enabled sorghum to be very productive without having weed-infested paddocks. It is especially important to have a profitable alternative for crop rotation. We have a mid-potential area where sorghum is more stable than corn. The sorghum root system and profuse stover help to improve soil health in the short term and the following growing season." This technology has allowed farmers to go back to Sorghum expanding the crop acreage from 450k to 900k in the last 4 years.
The productivity of the igrowth® sorghum has been noted by Australian growers.
"I certainly have never had a crop like it," said Mr. Shooter, Australian sorghum grower. "It kills the grasses and weeds in the crop which helps reduce the seed bank from the problem weeds and prevent them re-germinating."
Advanta Seeds believes that igrowth® represents the most significant advancement in the crop since hybridization. It allows a more sustainable agriculture production, preserving our environment and promoting the efficient use of resources. Sorghum is a climate smart crop with low input and high productivity and is the crop of the future. Undoubtedly, igrowth® technology being only five years in the market, already has turned out to be a game-changer for sorghum growers.
About Advanta Seeds
Advanta Seeds is a global seed company adapting to rapidly increasing food insecurity and climate change by providing farmers with innovation and modern technologies. As part of UPL Group, Advanta Seeds aims to deliver high quality seeds with excellent agronomic practices and crop protection solutions. Advanta Seeds operates in over eighty countries under global brands of Advanta, Alta and Pacific Seeds. Advanta Seeds holds a leadership position in tropical and sub-tropical geographies in corn, grain and forage sorghum, sunflower, canola, rice, and a variety of vegetables. With over 60 years' experience in plant genetics, Advanta Seeds provides seeds technology that ensures crop performance and farmers prosperity.
https://www.advantaseeds.com/
Featured Product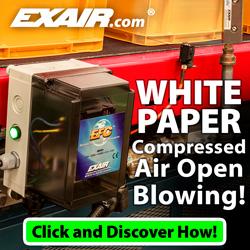 Compressed air is a limited resource that is generated in-house for the benefit of many operations within the manufacturing environment. Learn how to ensure all point of use applications are using your compressed air in the most effective and efficient way possible. Learn how much it costs to produce that compressed air and how Engineered Nozzles can help you use your air more effectively and efficiently.