Regenerative farming enterprise with a century of experience makes debut at an industry-leading agricultural event
March 8, 2022, Regenified, the agricultural company focused on regenerative soil verification, has launched today at the ExpoWest conference in Anaheim, California. Regenerative farming produces high-quality food that tastes great and is better for consumers. Led by a team of regenerative farming pioneers, experts, and innovators, Regenified has relationships with consultants who advise on over 30 million acres of farms and ranch lands alongside food manufacturers and retailers to promote and verify regenerative farming practices.

"Regenerative farming practices that remove carbon from the atmosphere, reverse climate change and restore ecosystems - from no-till and cover cropping to adaptive grazing and beyond - are not only good for the planet, but they're also good for the land," said Gabe Brown, co-founder of Regenified. "They grow soils, enhance soil fertility, increase water infiltration, water retention, and improve biodiversity and ecosystem health - and the healthier the soil, the stronger and healthier the crop."
Reports show regenerative farms are up to 78% more profitable than conventional farms, due to lower input costs (such as artificial fertilizers, pesticides, and GMO seeds) and higher premiums for crops through regenerative verification. With growing consumer demand for eco-friendly products and increasing numbers of large food producers and retailers committed to advancing regenerative practices, regenerative agriculture - named the number one food trend - makes good business sense.
"Since we're looking to align closely with the natural food processing ecosystem, we thought it made sense to make our national debut at ExpoWest," said Ben Katon, CEO of Regenified. "We're concerned that conventional farming methods have led to a 38% decline in nutrients in fruits and vegetables over the past 50 years. With regenerative farming, crops contain more vitamins, minerals, and phytonutrients than those grown on conventional farms. Beef, dairy, pork, and poultry become healthier with higher levels of omega-3 fatty acids."
About Regenified
Founded in 2021 by a team of regenerative farming pioneers, experts, and innovators, Regenified works with farmers and ranchers alongside food manufacturers and retailers to promote regenerative agricultural practices through the Regenified seal. Regenerative farming methods are not merely good practices. They are good for the health of the planet and the people on it, good for business, good for consumers, and, simply, good thinking. For more information, please visit http://www.regenified.com.
Featured Product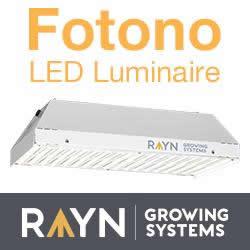 Fotono is a full spectrum LED horticultural luminaire designed to directly replace HPS lights in greenhouses. At 12 pounds, 20 inches long, and 5 inches high, Fotono's compact size makes installation simple while minimizing structural burden on greenhouses. This compact fixture packs energy-saving and yield-improving features, such as a high output, stepless dimming, advanced spectral capabilities, and more.