Light Science Technologies (LST), the leading AgTech specialist, has been awarded £503,000 in funding to develop its intelligent LED grow lighting cloche solution, as it further strengthens its indoor farming proposition.
Awarded by Innovate UK, the UK's innovation agency, the grant is part of its Farming Initiative Pathway (FIP) consortium for more sustainable and efficient plant growth in the UK agricultural sector and will leverage LST's expertise in sensor technology and LEDs. LST's turnkey, intelligent LED grow-lighting cloche combines both its nurturGROW sensor, currently under development, and its award-winning nurturGROW luminaire with inbuilt crop husbandry semi-automation system, for soil-based growing within polytunnels and glasshouses.

The grow-lighting cloche is expected to be the first retrofittable, all-in-one lighting-sensing-automation rig designed for polytunnels and glasshouses - bringing sustainable, controlled environment technology to growers. The grow-light cloche will extend the growing season, enabling farmers to grow a wider variety of produce all year round, and will expand LST's existing product range.
The solution aims to improve productivity by increasing yields from 2-3 yields to 8+ yields, annually. It will also look to help growers by providing a potential solution to ongoing labour shortages, reducing the need for import substitution, harvesting machinery, pathogen infiltration and utilising UVC-lighting disease management.
The solution is being developed as part of a consortium including Zenith Nurseries, as an agronomist and growing partner, which began in November 2021, with a potential value of up to £13.84 million*.
The 21-month project consists of four development stages and once complete, the prototype will be tested on Zenith Nurseries' existing growing site over six months to validate the data.
Once developed, the solution will be designed to fit across a standard-sized glasshouse and polytunnel and move across the crops, providing growers with tailored supplementary hybrid lighting and targeted, actionable data insights of the nine cardinals of plant life and soil health, based upon the data collected.
Simon Deacon, CEO and founder of Light Science Technologies, said: "Due to the shorter growing seasons, unpredictable climatic conditions and heavy reliance on manual labour processes, the UK struggles to produce enough food to meet demand. We are delighted to have been selected for funding by Innovate UK, which is testament to the potential value of the cloche product in alleviating both these national issues and providing CEA growers with the opportunity to achieve better light quality and energy savings."
The initial potential UK market includes over 4,000 industrial growers, producing over 300 types of field-scale and protected vegetable and salad crops, and tree and berry fruits covering over 10 million m2. The total market size for polytunnel in Europe is worth a potential £2.96 billion in 2022 with a predicted CAGR of 9.6% from 2021-28.
* subject to certain milestones and conditions as more fully described in the company's announcement on 15 October 2021.
ENDS
About Light Science Technologies Holdings plc
Light Science Technologies Holdings plc is the holding company of the Group's controlled environment agriculture ("CEA") division, Light Science Technologies Ltd ("Light Science Technologies"), and its contract electronics manufacturing ("CEM") division, UK Circuits and Electronics Solutions Limited ("UK Circuits").
Further information is available at: www.lightsciencetechnologiesholdings.com.
Controlled Environment Agriculture
Light Science Technologies was founded in 2019 and is the Company's grow lights and sensor technology business, providing bespoke recipes and technologies tailored to customers' needs - with key targets including indoor, vertical, glasshouses, polytunnels and medicinal farming markets. The all-in-one CEA solution will include analysing customers' crop growing requirements to provide bespoke, low-energy and sustainable equipment.
Market drivers include food and water shortages in many parts of the world; growing global population; UK and other government policy encouraging sustainable and efficient growth methods; increased scrutiny of the effect of food production on climate change and the continuing transition away from processed foods.
Featured Product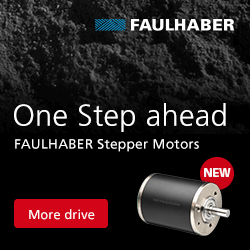 The FAULHABER stepper motor AM3248 raises the bar in terms of performance and dimensions. Offering up to 10,000 rpm, it achieves five times the speed of comparable stepper motors. Combined with a gearhead reduction of 100:1, it supplies a torque of 5 Nm. With a diameter of just 32 mm, it is suited for a wide range of applications in areas such as aerospace, laboratory automation, the semiconductor industry, robotics and 3D printing. Learn more!