Agrology to integrate Wyld Network's satellite-based IoT connectivity into its predictive agriculture platform for global, 24/7 data collection
Wyld Networks and Agrology have announced a partnership to integrate Wyld Connect into Agrology's ground truth predictive agriculture platform. Wyld Connect is a low-cost, IoT global connectivity network based on low-orbit satellite systems. The technology ensures that Agrology ground truth sensors will continue to gather data, from even the most remote locations, and can deliver that data quickly to Agrology customers, regardless of connectivity status.

"We are delighted to be working together with Agrology in the agtech sector," said Alastair Williamson, CEO of Wyld Networks. "Only 15% of the world's surface has access to wireless connectivity and agriculture traditionally has suffered from very poor or no wireless coverage. Agrology provides farmers with affordable, actionable data and machine learning predictions that help them plan and mitigate threats by leveraging IoT technology."
Agrology's predictive agriculture platform combines proprietary, affordable sensor arrays with machine learning, to provide actionable insights and trends via a mobile app. Agrology is the first company to offer one agriculture system to mitigate, predict and address a variety of issues including smoke taint, irrigation and climate change. The streamlined system of sensors, machine learning technology, data processing and data delivery, makes it easy for farmers to micro-track their crops, receive data and make decisions.
"IoT for agriculture presents a number of challenges, with connectivity being one of the most arduous," said Adam Koeppel, CEO and Co-founder of Agrology. "By integrating Wyld Connect into the Agrology platform we can ensure that farmers will always have the real time data they need to make important decisions."
"We will continue to put together agreements ahead of the commercial launch with end-users, system integrators, sensor manufacturers in agriculture, energy, utilities, transportation and logistics, as well as data analytics platform providers, to ensure we create a broad eco-system to capture a greater customer base," added said Williamson of Wyld Networks.
About Wyld Networks AB
Wyld Networks develop and sell innovative wireless technology solutions that enable affordable connectivity anywhere in the World, addressing the problems for businesses and people regarding the lack of global mobile network coverage. The solutions are mainly targeted to wireless connectivity for the Internet of Things (IoT) and people. Wyld Networks Ltd was formed in Cambridge, UK in 2016 and is a wholly owned subsidiary of Wyld Networks AB.The Wyld Networks share (WYLD) is traded on the Nasdaq First North Growth Market. Certified Adviser is Mangold Fondkommission AB (tel +46 8-5030 1550, email ca@mangold.se). Read more on www.wyldnetworks.com
About Agrology
Agrology develops predictive agriculture technologies to help growers maximize profits with minimal input costs and environmental impact. Founded in 2019, Agrology's predictive agriculture platform combines proprietary, affordable sensor arrays with machine learning to provide actionable insights and trends via a mobile application. Agrology is a Public Benefit Corporation committed to focusing on protecting the economic viability of our farmers and the sustainability of our planet. The company's strategic partners include The National Science Foundation, UC Davis College of Agriculture and Environmental Sciences, and Virginia Tech College of Agriculture and Life Sciences. Agrology has offices in Alexandria, Virginia, and Sonoma, California, and can be found online at Agrology.ag.
Featured Product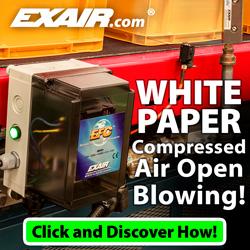 Compressed air is a limited resource that is generated in-house for the benefit of many operations within the manufacturing environment. Learn how to ensure all point of use applications are using your compressed air in the most effective and efficient way possible. Learn how much it costs to produce that compressed air and how Engineered Nozzles can help you use your air more effectively and efficiently.