Conference to Introduce Innovations for Increased Tropical Agricultural Productivity and Efficiency
(HILO, Hawaii, Feb. 14, 2022) - Top thought leaders and industry influencers in agricultural technology will gather in Hilo, Hawaii to discuss solutions to the food problem in the tropics where the highest levels of hunger currently exist. With climate change already disrupting food production in these regions, finding solutions that increase productivity, efficiently and profitably is necessary and urgent.

The inaugural Tropical AgTech Conference, hosted on the campus of the University of Hawaii at Hilo, June 22-23, is an opportunity to introduce innovative technologies that are being used successfully throughout the world.
"This conference focuses on the tropical region, small scale farms and new high value crops," noted Jim Wyban, conference organizer along with Jason Ueki, executive director of HIplan - Hawaii Island Business Plan Competition.
"AgTech solutions for smallholder farms in the tropics is challenging: They must increase productivity and efficiency, be climate-smart, relatively farmer-friendly to use and economically viable at small scale production. This conference differentiates itself from other AgTech conferences by including breeding technology that can assist farmers achieve more valuable production capacity."
Hawaii can play a critical role by incubating Tropical AgTech ideas and solutions given its year-round climate, microclimate zones, as well as research and development already underway in the islands.
Registration at tropicagtech.com is open to those who want to learn and participate in solutions for smart, sustainable tropical agriculture.
WHAT: Tropical AgTech Conference
WHEN: June 22-23, 2022
WHERE: Performing Arts Center
342 W. Kawili Street
Hilo, HI 96720
COST: $200 for in-person or live streaming at tropagtech.com
Stay up to date on the latest details of this year's Tropical AgTech Conference: visit tropagtech.com and join the Tropical AgTech social community on Facebook: TropAgTech, Instagram: @tropagtech, and Twitter @AgtechTropical
Featured Product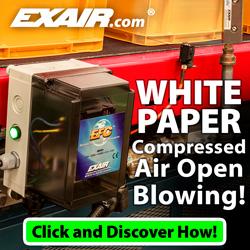 Compressed air is a limited resource that is generated in-house for the benefit of many operations within the manufacturing environment. Learn how to ensure all point of use applications are using your compressed air in the most effective and efficient way possible. Learn how much it costs to produce that compressed air and how Engineered Nozzles can help you use your air more effectively and efficiently.