As the growing demand for food, how can we create access to a sufficient supply of safe good under the condition of limited farmland?Boosting the yield is an effective way. With the advancement of technology, a form called precision agriculture shows up. Agriculture drone plays a important role in this new form.
With the development of science and technology, the agricultural mechanized level is improving rapidly. Currently drones have been widely used in the field of farming work/agricultural activities. Yuanmu is an agricultural drones and solution supplier, dedicating to developing smart drones and solution to improve efficiency. Since 2013, we have worked with companies across the world, delivering agricultural drones with characteristics of safe, high reliability and great efficiency. What advantages and benefits do Yuanmu agriculture drones bring you?

1. Intelligent spraying, easy handling. Generally, the agricultural drone consists of flight platform, flight control system and spraying system. The flight data of drone can be examined through the app, the remote control assists the UAV state, and the flight and spraying conditions can be controlled by the flight control system. Yuanmu provides flight control training to familiarize you with this flight control system in 5-10 days due to fully autonomous operation.
2.Aerial spraying, all terrain adapting; Spraying is carried out in the air/above the plant achieving even spraying. The flight altitude can be programmed according to terrain, even in operation. Ideal for terraced field.
3.High efficiency, flight speed of agriculture drone is 4-10 meters/s, it can be adjusted according to requirements. For example, Yuanmu GF-30, features a 30-liter spray tank and a spraying system payload capacity of 60kg. With spraying range of 9meters, GF-30 improves efficiency of spraying greatly and cover up to 50 acres in an hour.
4.Remote control in long-distance. 1000-meter remote control radius ensures operators staying away from pesticides, avoiding pesticide poisoning. Also the spraying nozzles can be closed by remote control.
5.Save pesticide and reduce labor cost. spraying speed and uniformity of spraying are controllable through spraying system in app. Yuanmu agriculture drones have break-point memory for reload tank or any other incidents, skipping re-set process and re-spraying.
6.Avoid crushing the plant; spraying drones spray pesticide in the air above the plants without contact, avoiding plant damage.
7.Back of leaves can also be sprayed; the leaves will turn over in the downward pressure wind field caused by propeller, achieving stronger penetration and uniform spraying.
Above are several advantages and benefits of agriculture drones that Yuanmu shares with everyone. Yuanmu has focused on development of agriculture drone for more than ten years and is committed to delivering smart agricultural drones and digital agricultural solution.
Featured Product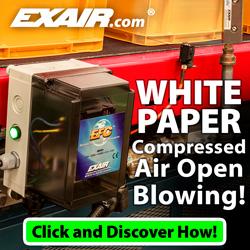 Compressed air is a limited resource that is generated in-house for the benefit of many operations within the manufacturing environment. Learn how to ensure all point of use applications are using your compressed air in the most effective and efficient way possible. Learn how much it costs to produce that compressed air and how Engineered Nozzles can help you use your air more effectively and efficiently.