Fluence will serve as SunMed's exclusive LED provider as the cultivator retrofits its greenhouse facilities and doubles the amount of LED lighting in its upcoming expansion
Fluence by OSRAM (Fluence), a leading global provider of energy-efficient LED lighting solutions for commercial cannabis and food production, announced today its partnership with SunMed Growers, a 250,000-square-foot greenhouse cannabis facility located in Warwick, Maryland. Together, the companies have retrofitted SunMed's facility from high-pressure sodium (HPS) fixtures to LEDs and increased overall light intensity over the last two years, resulting in up to 30% yield increases for several of the company's main production strains.

The largest cultivator in Maryland, SunMed is helmed by third-generation greenhouse grower Jake Van Wingerden. Van Wingerden's family carries a notable legacy in the industry and is a household greenhouse grower name among horticulturists. According to a recent feature in Cannabis Business Times, members of the Van Wingerden family oversee more than 30 million square feet of U.S. greenhouse space. Jake Van Wingerden channeled decades of cultivation knowledge into one of the most advanced cannabis facilities in the U.S., which he expanded from 70,000 square feet to 250,000 square feet in just five years.
"We have learned so much over the last five years and I'm thrilled that we not only continue to grow our footprint, but deliver the highest-quality cannabis products to the Maryland market," Van Wingerden said. "Through our partnership with Fluence, we've seen a notable difference in plant quality over the last two years. Our plants have never been healthier and are growing with incredible vigor under Fluence's LEDs."
Before implementing Fluence's lighting solutions, Van Wingerden used HPS fixtures to supplement the greenhouse's natural light. However, he knew he could bring in more light at higher efficiencies with more advanced technology. After researching the benefits of LEDs, he realized the significant energy savings, higher light levels—without excess heat—and overall increases in yield were more advantageous than continuing with HPS. After successful trialing of Fluence's LEDs, Van Wingerden and SunMed made the decision to retrofit the entire facility with Fluence's VYPR series top light. The data shows from 2019 to 2021, SunMed recorded up to 30% increases in yield across several of its most prominent strains. SunMed also recorded consistent or slightly elevated levels of potency. Now, Van Wingerden is working with Fluence to double the facility's light intensity without impacting the shading of the current fixture arrangement.
"Cannabis plants can take a tremendous amount of light. By doubling our light intensity—and with another facility expansion in our future—we'll be producing off-the-charts yields," Van Wingerden added.
In addition to Fluence's LED technology, SunMed's facility also leverages a fully automated Dutch rolling table system to move plants through each phase of cultivation. Coupled with its in-house growing media and stringent sanitation practices, SunMed's pristine greenhouse reflects Van Wingerden's rich expertise as well as his team's combined horticulture experience.
"It's an honor to work alongside Jake and his team at SunMed—they are true experts at their craft and are pioneering some of the most innovative facility designs on the market today," said David Cohen, CEO of Fluence. "We're eager to support the SunMed team in their future expansions and witness how high-light-intensity strategies can drive record yields and superb plant quality."
For more information on Fluence, visit www.fluence.science.
About Fluence by OSRAM
Fluence Bioengineering, Inc., a wholly-owned subsidiary of OSRAM, creates powerful and energy-efficient LED lighting solutions for commercial crop production and research applications. Fluence is a leading LED lighting supplier in the global cannabis market and is committed to enabling more efficient crop production with the world's top vertical farms and greenhouse produce growers. Fluence global headquarters are based in Austin, Texas, with its EMEA headquarters in Rotterdam, Netherlands. For more information about Fluence, visit https://fluence.science.
About SunMed Growers
SunMed Growers and SunMed Labs are owned and operated by Jake Van Wingerden in Cecil County, Maryland. Marrying science and passion with state-of-the-art, "Dutch-style" greenhouse cultivation practices and science driven extraction, SunMed provides Maryland patients with natural medicine grown in full-spectrum sunlight, setting the standard for clean and sustainable medical cannabis.
Featured Product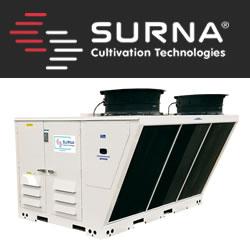 The EnviroPro Packaged DX HVACD Unit utilizes hot gas reheat to provide both cooling AND dehumidification all in one central unit. Its variable speed components allow it to make more nuanced adjustments, saving energy and avoiding temperature swings that can come from single-stage equipment. Due to its affordability, versatility, and industry-leading warranty, the EnviroPro Packaged unit is one of Surna's most popular HVAC offerings.