Kicking off on World Soil Day, December 5, the companies offer unique opportunity for consumers to actively participate in soil restoration through The Carbon Underground's Adopt-A-Meter program
True Grace, the mission-based supplement brand working to improve the health of people and planet through nutrient-dense products, has announced a partnership with The Carbon Underground, a like-minded organization on a mission to accelerate the adoption of regenerative agriculture. Knowing that 50% of soil is degraded worldwide (source: The Guardian), True Grace is committed to supporting a shift towards a more regenerative system, both in how the team sources ingredients and how they educate and influence others about the importance of this shift. Partnering with one of the leading organizations of the regenerative agriculture movement is an essential piece of this consumer education and awareness that is necessary for change.

The partnership between True Grace and The Carbon Underground will officially kick off this World Soil Day (December 5) highlighting The Carbon Underground's Adopt-A-Meter program; for every True Grace order placed from December 5 through December 19, True Grace will purchase a meter of soil on the shopper's behalf. The Carbon Underground's Adopt-A-Meter program was created in 2019 to reverse climate change by taking old carbon emissions that lead to unhealthy, degraded soil, and putting them back underground. Anyone, anywhere can adopt a meter of soil that will help to bring carbon from the atmosphere into the ground and will also provide funding to help female farmers to restore their land through projects including American Farmland Trust, Navdanya, Co-op Las Amazonas, and CoopeCuna. So far, The Carbon Underground's Adopt-A-Meter program has restored 5 million meters of soil, bringing down tons of carbon with no plans of slowing down. This two-week long promotion between True Grace and The Carbon Underground allows consumers nationwide to have a tangible, positive impact on environmental health.
"We're committed to regenerative agriculture, and that's why we're beyond thankful to be partnered with The Carbon Underground to help us educate the public about the state of soil health today," said Kristie Hall, Founder and CMO of True Grace. "It is our hope this World Soil Day and beyond that we can all come together to educate each other, take action, and care for our soil since healthy soil results in healthy, nutrient-dense crops and ingredients that are used to make the foods we put into our bodies."
Soil is not only the basis of entire ecosystems, but also the foundation of food's nutrients since degraded soil grows depleted food. In fact, food grown today is 40% less nutrient dense than it was 50 years ago (source: Eartheasy). The issue of nutrient-density in food is urgent and is the reason why companies like True Grace and The Carbon Underground have aligned in their missions to come together to restore degraded soil that is threatening the future of generations to come.
"Soil plays such a crucial role in the health of our planet and bodies and it's more important than ever that we as a society make restoring our soil a priority," said Larry Kopald, The Carbon Underground Founder and President. "It's an honor to partner with such a mission-forward company like True Grace that, from day one, has been committed to moving the regenerative agriculture movement forward. Together, we're thrilled to be educating the public and giving them tools, resources, and opportunities to make a real impact on this mission."
True Grace's World Soil Day promotion running from December 5 through December 19 is an opportunity for consumers to make a true difference in soil health for generations to come. Every single order placed during this time will physically remove carbon from the atmosphere. Plus, customers will also receive free shipping on products purchased, 10% off supplement bundles, and 5% off gift cards throughout the above timeframe.
For more information about True Grace and its commitment to regenerative agriculture, please visit www.truegracehealth.com/. For more information about The Carbon Underground and its mission, please visit https://thecarbonunderground.org/.
ABOUT TRUE GRACE
True Grace was born out of passion to improve the health and well-being of future generations. Education inspires change, and change begins with awareness. We believe that a small group of like-minded individuals can have a major impact on our food supply chain, improving the health of our soil, food, people, and, ultimately, our planet.
True Grace provides nutrient-dense products to combat nutrient deficiencies in our soil, communities, and selves. The brand supports regenerative agriculture and is revolutionizing traditional supplements by focusing on nutrient density and sustainable practices that regenerate the earth and the body. True Grace currently offers a One Daily Probiotic, One Daily Women's Probiotic, One Daily Women's Multivitamin, One Daily Women's Multivitamin 40+, One Daily Men's Multivitamin, and Highly Concentrated Omega-3 Fish Oil. For more information, visit www.truegracehealth.com/ or follow the brand on Instagram and Facebook.
ABOUT THE CARBON UNDERGROUND
The Carbon Underground was created in 2013 with two core goals: To coalesce the emerging science on soil's relationship to climate change and to inform the world about a possibility to not simply slow down this threat, but reverse it.
Since that time, TCU has grown into an international outcomes-based organization focusing on creating the tools, alliances, and opportunities to achieve scale at efforts proven to draw down carbon and mitigate the climate crisis.
Featured Product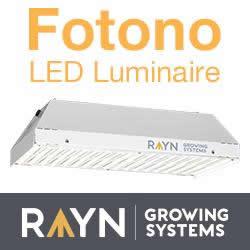 Fotono is a full spectrum LED horticultural luminaire designed to directly replace HPS lights in greenhouses. At 12 pounds, 20 inches long, and 5 inches high, Fotono's compact size makes installation simple while minimizing structural burden on greenhouses. This compact fixture packs energy-saving and yield-improving features, such as a high output, stepless dimming, advanced spectral capabilities, and more.