Following a momentous year, innovative agtech company announces further advancements toward making sustainable farming economically superior
Monarch Tractor, maker of the world's first fully electric, driver-optional tractor announced the successful completion of a $61M Series B funding round led by Astanor Ventures, one of the world's leading sustainable food venture firms, with additional individual and independent contributions from CNH Industrial, At One Ventures and Trimble Ventures. With this most recent round of financing, Monarch Tractor will be scaling its sales, service and manufacturing footprint; expanding its product offerings; and launching international pilot test programs for regional market validation.

"Fruit and vegetable farmers have long been ignored in the electrification and automation movement, and that's why the Monarch platform is built with them in mind," said Praveen Penmetsa, co-founder & CEO, Monarch Tractor. "Due to the ever-increasing labor challenges, sustainability concerns, and food traceability and scrutiny issues farmers face, we have experienced great demand for the unique solutions Monarch Tractor offers."
Monarch Tractor unlocks the potential for specialty crop farmers to achieve both their economic and sustainability goals. This has led to growing interest from farmers and increased support from the investment community, allowing Monarch to scale production and expand manufacturing space in preparation to meet global demand. Additionally, it provides Monarch with the ability to expand the company's footprint globally into South America, Europe and Asia for international pilot testing programs.
"Monarch is transforming what is arguably the most important vehicle on the planet: tractors," said Hendrik Van Asbroeck, partner at Astanor Ventures. "Tractors emit 14x more than a car, and have not seen the same wave of digital innovation as we have seen in the automobile industry. Beyond delivering an affordable, clean and autonomous solution, Monarch's tractors capture detailed on-farm data to enable the sustainable and efficient farms of the future."
Monarch Tractor is the first to deliver a convergence of electrification, automation and data analysis that empowers sustainable farming, increases efficiency and safety, and maximizes profitability for farmers. To see the Monarch Tractor in action, watch this video.
To learn more about Monarch Tractor, visit www.monarchtractor.com.
About Monarch Tractor
Monarch Tractor is working to utilize 21st-century technology to empower farmers by enabling profitable implementation of regenerative, sustainable and organic practices. Monarch Tractor, the world's first fully electric, driver optional, smart tractor, enhances farmer's existing operations, alleviating labor shortages, and maximizing yields. Monarch is committed to elevating farming practices to enable clean, efficient, and economically viable solutions for today's farmers and the generations of farmers to come. With cutting-edge technology, global reach, and an experienced team, Monarch is delivering meaningful change for the future of farming. For more information, visit www.monarchtractor.com.
About Astanor Ventures
Astanor Ventures is a global impact investor that backs ambitious entrepreneurs with disruptive, scalable solutions that will create systemic change across the agrifood value chain, from soil to gut. They partner with impact-driven founders who are committed to restoring balance and sustainability to the land and oceans, prioritizing nature and culture, nurturing change and feeding growth. For more information go to https://astanor.com/.
Featured Product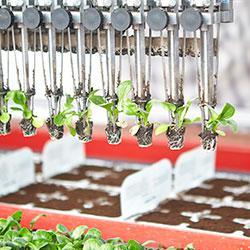 "Smart farming" is an important part of the answer to this existential question: Extremely high efficiency in food production through the targeted use of the latest technology, computer-supported and - where possible - fully automatic. Seeds are individually and precisely placed; fruits carefully picked by mechanical grippers; fertilizers and plant protection products applied in small doses and in a targeted manner. These operations require a large number of small electric motors that are both robust and powerful.