Six major centres of agri-tech from the US, Europe, Middle East and Far East were represented at REAP 2021, all keen to partner with the UK innovation. Many of the early-stage companies featured in its Start-Up Showcase over the years are gaining momentum as industry leaders (see below for this year's line-up).
"Increasing knowledge about humankind's impact on the planet has given us strong signals on how we are damaging the environment, but also potential solutions to manage our natural capital better," said Jan-Erik Petersen of the European Environment Agency (EEA), talking at the Agri-TechE REAP conference. Emerging agri-tech and new approaches to farming and food production that offer improved soil health and agricultural productivity while reducing negative environmental impacts are among the topics discussed at the conference.

Dr Belinda Clarke is director of Agri-TechE, the UK's agri-tech innovation ecosystem. REAP provides a springboard for multi-disciplinary collaboration and this is increasingly international. Six major centres of agri-tech from the US, Europe, Middle East and Far East were represented at REAP 2021, all keen to partner with the UK innovation. Many of the early-stage companies featured in its Start-Up Showcase over the years are gaining momentum as industry leaders (see below for this year's line-up).
Belinda comments: "The potential for GHG emission savings across the agri-food supply chain are significant.
"Talking specifically about agriculture, there are many win-wins. Nitrogen and carbon are vital - and costly - nutrients and some of them are being lost in the form of methane and carbon dioxide. Locking in these nutrients into biomass can increase productivity and reduce adverse environmental impacts. We are seeing huge innovation in circular economies where the system is much more efficient at retaining and utilising inputs, and this is underpinned by precision agri-tech."
Petersen's team is using the latest satellite technologies to enable better estimates of natural capital and ecosystem services. He argues that a joined-up approach is needed to advise farmers supported by appropriate tools and incentives.
He says: "Land use across the world is connected. If you take land out of production in Europe, while the global food demand remains the same or increases, then somewhere else in the world natural habitat is likely to be converted into agricultural land to replace the tonne of wheat that is not coming from the UK but is still being consumed.
"It's a question of making changes to policy, of consumers making choices, and of farmers being supported for environment-friendly agriculture."
Belinda continues: "REAP coming at the end of COP26 is very timely this year, as it features potential solutions - new research, innovation and practices that are already positively impacting the climate change agenda.
"These range from a more restorative and regenerative approach to land management through to earth observation technologies that generate unprecedented insights into the performance of soils, crops and woodland.
"A new era of spacetech is supporting precision agriculture to enable more efficient application and utilisation of synthetic inputs such as fertilisers and feed and near global connectivity will facilitate the deployment of smaller, lighter robotic 'fieldworkers' to provide per plant care. Also vital are predictive yield models to reduce waste and improve forecasting."
See below some of the speakers at REAP 2021 and also the early-stage companies featured in the REAP 2021 Start-Up Showcase.
Sponsors of REAP 2021 include: AF Group; AHDB; Barclays Eagle Labs; BBSRC; Missouri Partnership; Rothamsted Enterprises; Savills and the World Trade Center St. Louis.
Speakers at REAP included:
- Cambridgeshire farmer Tom Pearson, who changed the family farm from conventional to regenerative farming and is on the farmer advisory board of Small Robot Company.
- Professor Alex Web, whose team at the University of Cambridge have cracked the mystery of how plants measure time; this could unlock the potential of multiple harvests a year or a reduction in the cost of vertical farming, cutting food miles.
- Speakers from Airbus, the Satellite Applications Catapult and Wyld Networks about how 'broadband in the sky' will enable earth observation, robotics for harvesting and autonomous vehicles across the supply chains.
- Scientists from leading agricultural research institutes.
Early-Stage companies took the stage in the Start-Up Showcase
CAN MUDDY MACHINES' ASPARAGUS HARVESTING ROBOT SAVE THE UK INDUSTRY?
Muddy Machines announces its robotics as a service to be available next season.
The future of the UK asparagus industry is threatened by a shortage of pickers. Agri-tech start-up Muddy Machines has developed an automated harvesting platform capable of distinguishing between spears that are ready to be harvested and those that are not, even under challenging field conditions. It uses an automated gripper arm to accurately cut the asparagus and place it in a container. It can also predict yields, thereby increasing the profitability of the grower.
MICROBIOTECH PRESENTS NEW LURE THAT CONTROLS INVASIVE FRUIT PEST
Highly effective bait product to be taken to market, discussed at REAP 2021.
A new molasses bait spray being developed in a collaboration between NIAB and Microbiotech will lure Spotted-Wing Drosophila, an invasive fruit fly, to its death before it has a chance to lay its eggs on fruit crops. The new product is not attractive to beneficial insects and requires only a tiny amount of insecticide to control one of UK horticulture's biggest threats.
GARDIN'S OPTICAL PHENOTYPING SENSOR PROVIDES INSIDER VIEW OF PLANT HEALTH
Low-cost sensor will give a real-time indication of plant health, presented at REAP 2021
"We can detect stress in the plant before it is detectable by eye," says Fabrizio Ticchiarelli, Lead Biologist at agri-tech start-up Gardin. The company is developing a low-cost optical phenotyping sensor that will give a real-time indication of plant health and predictions of ripening, nutritional content and yield.
Most current sensors monitor the environment or the physical changes in the plant resulting from sub-optimal conditions, and there can be a delay before these appear. Gardin's approach is to instead look at the cellular processes within the plant, which adapt on much faster timescales, and aims to provide recommendations for action.
IS YOUR FARM BUZZING? AGRISOUND LAUNCHES POLLINATION MONITOR AT REAP 2021
AgriSound's insect monitoring network offers targeted pollination to double fruit yields
Targeted pollination can double the yield of soft fruit and increase the quality of the produce. To enable farmers to increase pollinator levels, AgriSound is launching an insect listening device called POLY, which displays a heat-map on a mobile device to show insect activity. It highlights pollination deficits on-farm as well as providing proof that interventions increase ecosystem services.
The window for pollination is very tight - two weeks for almonds - so it is crucial to ensure that sufficient bees or other pollinators are available at the right time.
GROWERS COULD SAVE THOUSANDS EACH YEAR WITH ALBOTHERM'S HEAT SENSITIVE COATING
Albotherm announces new thermoregulation product at REAP 2021
A heat sensitive coating for greenhouse glass that would maintain optimum temperatures all year around and remove the annual cost of applying and removing shading is being developed by University of Bristol spin-out Albotherm.
Molly Allington, CEO and Co-founder of Albotherm, explains that temperature control in the glasshouses is critical for maintaining crop health and maximising yields.
ROBOTIC 'HARVESTING AS A SERVICE' PROVES COST-EFFECTIVE IN TRIALS BY FIELDWORK ROBOTICS
Trials show 'cost per kilo' equivalent to human labour
As about 30% of the UK raspberry crop lies rotting in the fields, the need for automating the delicate harvesting operation becomes more acute. Fieldwork Robotics has developed a robotic raspberry harvester, and the company is running trials with selected growers on a harvesting as a service basis.
Rui Andres, CEO of Fieldwork Robotics, says quality and cost per kilo of fruit picked are the most important factors when harvesting raspberries, rather than speed alone. We are aiming to complement the human workforce with a robot harvester that will operate for longer hours. This will free staff for quality control and other skilled jobs and create the opportunity to use more of the crop for other products.
OMEGA CROP LOSS PREDICTION AND DIAGNOSIS TO EMPOWER FARM STRATEGY
Omega Crop to provide weed mapping and disease prediction, discussed at REAP 2021
Yield loss diagnosis is one of the features of a new system developed by Omega Crop. Weed mapping and disease prediction is achieved using data gained from multiple sources - satellite, drones, smartphones, hyper-local weather - is layered into Omega Crop's proprietary crop model, resulting in either a yield loss event prediction or diagnosis; the findings are delivered to the agronomist or farmer as actionable intelligence.
Jared Bainbridge, co-founder and CEO of Omega Crop, explains that its software can predict when and in which fields the diseases are most likely to occur, to enable field-level disease prevention spraying.
"Weed mapping and disease prediction saves money on-farm - weeds and fungal diseases can account for anywhere between 35-50% yield losses each year. Spraying is expensive, but losing half your yield is worse, so farmers tend to spray preventatively. By using our disease prediction model, farmers and agronomists can reduce or delay spraying to provide a direct cost saving and still protect yields."
Also presented:
The robotic N2 Vision tool which aims to make nitrogen application more efficient.
26% of agricultural GHG emissions are from nitrous oxide, mainly from artificial fertilisers, livestock manure and fossils fuels* UK farmers currently spend £1.3bn on nitrogen fertilisers and 72% of nitrogen fertiliser, applied globally, is not taken up by the plant and instead pollutes the air or watercourses. N2 Vision is enabling for the first-time accurate measurement of bioavailable nitrogen present in the soil during the growing season. This knowledge would inform an improved fertiliser strategy for crops, maintaining yields while reducing input costs.
*CCC Carbon Budget Report 2018.
Featured Product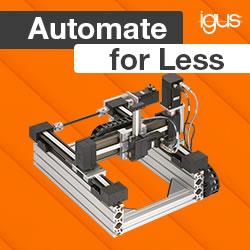 drylin® gantry robots consist of two base X-axes, a Y-axis, and an optional Z-axis. Their self-lubricating plastic liners have been engineered to slide instead of roll and to run smoother and quieter than recirculating ball bearings. drylin® gantries are also lightweight, corrosion-resistant, maintenance-free, and cost up to 40% less than traditional gantry robots. Visit this webpage to learn more.