New Identity Aligns with Growing Industry Demand for Food Supply Chain Visibility and Accountability
Food tech pioneer Farmlogix, creator of the platform for the foodservice industry to strategically source and measure sustainable, local and dietary food procurement, has introduced a new company identity as MaetaData. The name reflects the evolution of the company through AI-driven technology that transforms complex foodservice industry data into powerful tools that elevate ingredient and source transparency, empower local and diverse supply chains, and elevate corporate social responsibility/environment, social, governance (CSR/ESG) reporting.

The entire agriculture and food ecosystem is facing a fundamental shift that is reshaping the future of food. Stakeholders are accelerating expectations for a safer, more transparent, equitable and personalized food supply chain. These expectations have heightened as the pandemic thrust the food supply chain into the spotlight in unanticipated ways. With a source-to-consumer approach as a must-have to spark positive industry transformation, a necessary component is the accurate incorporation and analysis of procurement data to identify gaps and opportunities.
"In a space with no standard definition of local and sustainable, food supply chain participants need targeted data, actionable insights and customizable reporting tools more than ever," said Linda Mallers, founder and CEO of MaetaData. "Over the last decade, we have collected data around locality and sustainability that has enabled us to evolve beyond a deep dive into supply chain data. Now, in partnership with our clients, we get to the root of what makes their data, and the products and connections built from resulting insights, unique. With this awareness, clients are able to stay accountable to their customers while meeting business goals."
MaetaData collaborates with publicly held and Fortune 500 companies, governmental agencies, corporations and broadline distribution companies nationwide. These organizations access a range of full-service enterprise SaaS solutions to drive innovation for customer success, storytelling, product development, segment growth, marketing and sustainability. The company experienced 2400% growth as a result of its evolution from a food brokerage company to a pure technology solution. The company was recognized during the pandemic as one of the fastest growing private companies in the United States.
Through patent-pending technology, the MaetaData platform features supply chain visibility analytics tools, a product and supplier marketplace, and sustainable and local insights reporting. The company's database covers more than $10 billion of industry transactional data and reporting on more than $2 billion sustainable, local and diverse spending. MaetaData tracks 85-plus sustainable product attributes, ingests 100 million lines of industry transactional data monthly, and provides reporting through thousands of online client dashboards. In 2022, the company will introduce a self-service solution for individual foodservice clients to access turnkey reporting and industry insights.
About MaetaData
MaetaData is AI-driven technology that transforms complex foodservice industry data into powerful tools that elevate ingredient and source transparency, empower local and diverse supplier engagement and elevate CSR/ESG reporting. Food industry leaders across the supply chain rely on the MaetaData family of solutions to deliver programs and products that resonate with diners and drive revenue and market share growth. The company has been recognized with numerous honors including the Chicago Innovation Awards and named in 2020 to the Inc. 500 Fastest-Growing Private Companies in America (US -#165, and #1 in Logistics and Transportation for IL and Chicago).
For more information visit www.maetadata.com.
Featured Product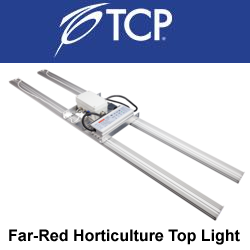 TCP's Far-Red Horticulture Top Light is available for growers that need to boost their overall crop size, yield, and photosynthetic rate without breaking the bank on energy costs or supplemental fixtures. It delivers up to 502 μmol/s of photosynthetic photon flux and high energy efficiency up to 2.29 μmol/J. It has a full spectrum that benefits vegetative and flowering growth, with a little extra kick.