New Biological the Latest of Series of Sustainable Innovations
Imperial, Neb. (AgPR) Oct. 14, 2021 - CARBON CYCLE™, a new biological designed to break down tough crop residue, speed up planting and make the most of fertilizer, was announced here today by Frenchman Valley Coop (FVC). A unique collection of bacteria and amino acids, CARBON CYCLE stimulates biological activity that speeds residue decay and releases nutrients faster.

"CARBON CYCLE springs from our effort to test, refine and make available new biologicals at a price point that can improve every farmer's ROI (return on investment)," says Ben Sauder, Vice President of Agronomy at FVC. "We are in a time of rapid advances with new biologicals, and we are happy to now provide this proven, beneficial technology to our growers."
Carbon Cycle is a biological that breaks down residue and releases nutrients.
CARBON CYCLE, sourced from Platte Peak Crop Performance, is geared to solving consequences of better genetics, faster planters, and higher yields. Since 1991, average corn yields in America have increased from 108.6 bushel per acre (BPA) in 1991 to 172 BPA in 2020 according to USDA. To grow and fill out heavier ears, corn stalks got stronger. To gain yield, plant populations went up, creating more residue. Meanwhile, planter speeds have doubled in recent years and 10-mph is now common. All these issues converge into a big challenge for high-yield growers: How do I get the crop in the ground quickly, while avoiding skips and gaining the consistent stand crucial to high yields?1
"New planting systems are designed to get the crop planted inside tight weather windows," explains Sauder. "Anything that helps us move faster and still get even germination is key, and the added benefit is freeing up more nutrients in a timely way for the next crop." He says there are several other advantages CARBON CYCLE offers farmers.
Ben Sauder, FVC VP of Agronomy, evaluates residue toughness during harvest. His tool is called a ResiGauge™.
"Lighter residue means less fuel needed for tillage and easier planting," he says, "and there's a big impact on fertility that's really important when we are seeing increases in fertilizer prices." Sauder says the blend of six proprietary microbes in CARBON CYCLE™ boosts natural biological activity that releases field-available nutrients from crop residue faster. Initial data indicates increases of up to 30-40 lbs. nitrogen, 5-10 lbs. phosphorus and 35-40 lbs. potassium per acre in the crop following CARBON CYCLE™ application.
"Economic viability is the key component of sustainable crop production and that's behind our development of these innovative biologicals," Sauder says. He went on to outline other efforts illustrating FVC's increased focus on better stewardship and sustainability.
Strategic Sourcing, Concentrated Inputs and Local Manufacturing
With the Platte Peak brand, Sauder explains that FVC has studied all aspects of sourcing, formulating, blending and transporting crop inputs to bring more aspects of the distribution chain closer to home.
"We deal directly with ingredient providers and formulate high quality crop inputs to meet the unique needs of farmers in our five-state service area," says Sauder. "With timely shipping and fewer warehouses, we create economic value by removing waste in the system. We can then pass along those savings to our members." The simple act of shipping concentrated ingredients and formulating their own products is better for farmers and the environment, he says.
"Moving water is expensive and fuel intensive," explains Sauder. "When we can move concentrated active ingredients and blend them closer to their end use on the farm, not only do we save money, but we have a fresher, better, more potent product for use in the field."
Computerized, Autonomous Application
FVC recently took delivery of a Raven OmniPower™ autonomous dry spreader that has been covering acres in Wyoming, Colorado and Nebraska. While automatic steering is common in today's farm equipment, those rigs still require a driver to turn the equipment at field's edge. The OmniPower has no cab.
"Our new computer-guided applicator means we can cover more acres safely in a given day with fewer people," he explains. "Having a driverless rig means being able to reallocate human resources in a way that's safer and more efficient. It will actually help us cover more acres with less fuel while reducing the potential for accidents day and night."
In today's ag climate, says Sauder, his team is tasked with first making the most of every acre, controlling weeds that are resistant to chemicals, and conserving soil, water, and air. All elements of the Platte Peak Crop Performance brand initiative are being undertaken with the same rigor FVC applies to any new offering.
"We have a very thorough evaluation process that we run all chemicals and enhancement products through before we sell them. If something does not work" says Sauder, "we want to find that out in our evaluations, not on one of our customer's acres."
Figuring out what combinations are the most economical and provide the best outcome for the grower, he says, is always the goal at FVC. "I want the staff to be equipped with the best training and knowledge when they step onto a farm. In the long run, if we do it right the first time, we will save time and money. It takes a long time to earn trust, we don't want to lose that over suggesting the wrong solution."
"These efforts fit well into our long-term strategy of serving members/customers all across our service area," shares John Bender, CEO of FVC. He sees opportunity in equipping crop producers to tell their stories of good stewardship to their families, absentee landowners and the community at large.
"First and foremost, the economics of crop production is the most important piece of sustainability," he says. "We are always looking to gain efficiency and provide the best solutions for farmers. We want to help growers make the most out of every dollar they spend with us. But we are helping them be good stewards of the soil, air and water - that's a story that needs to be told as well."
About Frenchman Valley Cooperative
Frenchman Valley Cooperative (www.fvcoop.com) is a full-service cooperative on call to serve farmers with crop inputs, precision ag services, grain storage, grain marketing, energy, feed and hardware. Frenchman Valley has been serving members for more than 100 years and now has 21 locations serving growers in southwest Nebraska, northwest Kansas, the Nebraska Panhandle, northeast Colorado, South Dakota and Wyoming.
Featured Product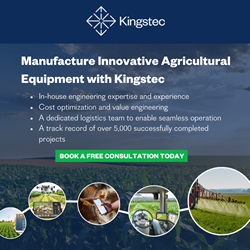 In the rapidly evolving agricultural landscape, leading AgriTech companies are increasingly leveraging the experience and expertise of strategic engineering and manufacturing partners to bring cutting-edge, cost-effective solutions to market. Kingstec is an all-in-one engineering, manufacturing, and logistics partner, with over 40 years of experience and 5,000 successfully completed projects. We can help you bring innovative, cost-optimized farm equipment, sensors, drones, components, and more to market quickly with in-house engineering and manufacturing expertise, a dedicated logistics team, and a network of world-class manufacturing and supply chain partners.