Visit Booth #283 to learn about highly efficient, advanced pumping technology for liquid terminal and liquid transportation applications
NETZSCH Pumps North America, LLC will be showcasing its extensive line of advanced, field-proven pumps for demanding liquid terminal applications at the International Liquid Terminals Association 2021 Annual Operating Conference and Trade Show, October 4-6 in Houston, TX. Stop by booth 283 to see NOTOS® Multiple Screw Pumps, TORNADO® T2 Rotary Lobe Pumps, NEMO® Progressing Cavity Pumps, and NETZSCH's pumping solutions for liquids of widely different viscosities.

NOTOS® 2NS Two Screw Pumps are particularly suitable for non-abrasive to slightly abrasive, corrosive as well as non-corrosive and low to highly lubricating liquids. These pumps have proven themselves for low to high flow rates as well as pressures. Due to their characteristics, the NOTOS® 2NS self-priming pumps have a long service life making them ideal in tank farms.
The compact TORNADO® T2 Rotary Lobe Pump, a self-priming, valve-less pump that offers maximum operational performance, high reliability and durability, ease of maintenance, and a low total life cycle cost. With a revolutionary design that has been recently reengineered to maximize uptime, the TORNADO® T2 pump features metal lobes running inside a metal housing with an elastomer liner.
Another option for liquid terminal and liquid transportation is the NEMO® Progressing Cavity Pump, known for its continuous, pressure-stable, gentle and low-pulsation conveyance of almost any fluid without being affected by fluctuations in pressure and viscosity.
NETZSCH pumps are available with a wide range of flow and pressure capabilities. The pump and tank can be constructed from carbon steel, stainless steel, galvanized steel, and Halar/rubber-lined steel, depending on application needs.
For more information contact:
Kristin Nugent
McNeil, Gray & Rice Inc.
(617) 367-0100, ext.148
Kristin.nugent@mgr1.com
About NETZSCH Pumps & Systems
NETZSCH Pumps & Systems has served markets worldwide for more than 60 years, providing customized, sophisticated solutions for applications in every industry type. Experts in solutions designed specifically for difficult pumping applications, NETZSCH supplies NEMO® progressing cavity pumps, TORNADO® rotary lobe pumps, and NOTOS® multi screw pumps, as well as macerators/grinders, barrel emptying units, dosing technology and accessories. With a workforce of more than 2,300, NETZSCH Pumps & Systems is the largest business unit in the NETZSCH Group, with annual sales of more than 305 million US$ during the 2018 fiscal year.
Featured Product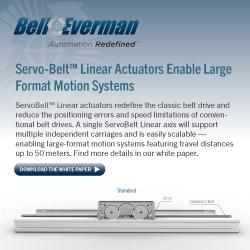 Manufacturing and packaging operations that still depend on manual material or parts handling operations can reap immediate benefits from a type of automation based on long-travel Cartesian robots with custom end-of-arm tooling (EOAT) and advanced sensing capabilities. These robots can support a variety of machines - performing otherwise manual tasks such as machine tending or transferring in-process parts - making long-travel Cartesian transfer robots a major upgrade to processes and operations. Download the White Paper from Bell-Everman