FIXAR has developed unmanned aerial vehicle FIXAR 007 with swappable payloads allowing to carry out diverse precision agriculture missions.
Drones or unmanned aerial vehicles (UAVs) are finding an increasing number of applications to support sustainable and efficient agriculture practices. Drone precision technology covers a broad range of agriculture tasks such as farmland analysis and development, livestock and crop fields monitoring, prediction and treatment of plant diseases, and much more. The UAVs bring efficiency as drones can cover acres of land in few hours saving time and reducing emissions in comparison with more conventional manned methods that run on fuel. Meanwhile, global warming raises risks and pushes society to look for nature-friendly, sustainable but at the same time efficient farming.

FIXAR has developed unmanned aerial vehicle FIXAR 007 with swappable payloads allowing to carry out diverse precision agriculture missions. The drone can be equipped with a photo or video camera for aerial photography for farmland development or video monitoring of livestock, with a multispectral sensor for vegetation monitoring and identification of plant diseases, as well as the drone can be adjusted for crops protection by adding a preprietory dispenser for granular bio protection distribution. It provides the full-scale database including: RGB orthomosaic, NDVI photos and orhtomosaic, full-scale vegetation indexes. All data is processed and used for the predictive analyses to let agriculture professionals plan the appropriate activities for the crop production and even protect crops with biological treatment with even small doses starting from 1.5 gram/ha. Thus, farming is getting smarter, affordable and easy-to-use.
The FIXAR 007 is a fully autonomous fixed-wing drone designed to meet the needs of agriculture businesses. The low-maintenance, easy-to-use fixed-wing drone can be set up in less than five minutes, and it can take-off and land vertically with an accuracy field of one meter. The FIXAR 007 UAV for mapping is an excellent tool for stress-free missions because it does not require any launch catapult or landing pad preparations. The drone can work interrupted for up to one hour, with a flight range of 60km and can process area of 70 ha within an hour or one deployment; a field up to 500 ha requires one working day.
According to the Drone Application Report 2021, in the agriculture sector drones are mainly used for mapping and surveying (59%) and spraying and seeding (30%). Both applications provide information for data-driven decisions for efficient and cost-effective work and can be executed with FIXAR solution by using the corresponding payload module.
To assist biological farmers FIXAR set up an agriculture package - the outdoor drone FIXAR 007 equipped with a dispenser for granular bio protection distribution. Consequently, FIXAR successfully introduced biological protection on a 3150 hectares area. In the course of the field treatment, entomophagy was applied twice in the vicinity of settlements, making for the first time possible to safely preserve the harvest in the treated area. The introduced entomophagy destroyed 74% of the invasive pests in a single flight and resulting in increased crop health and safety. This solution can be used for the distribution of diverse protective granular material.
The agriculture package setup allows completely autonomous bio protection distribution based on the predefined flight plan set up in the xGroundControl Station and the flight itself is guided by the Autopilot. No special skills or license is needed to operate the ground control base.
About FIXAR:
FIXAR is a leading software and design developer, powering commercial autonomous UAVs for industrial applications. Founded in 2018 by aerospace engineer Vasily Lukashov, the company holds a unique patented design that is simpler and more reliable than other configurations. The company is present in 20+ countries around the globe and serves more than 40 end-customers through the network of distribution partners.
Video: how FIXAR works.
Featured Product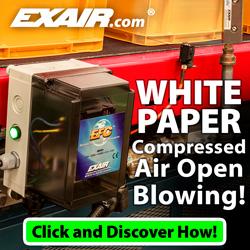 Compressed air is a limited resource that is generated in-house for the benefit of many operations within the manufacturing environment. Learn how to ensure all point of use applications are using your compressed air in the most effective and efficient way possible. Learn how much it costs to produce that compressed air and how Engineered Nozzles can help you use your air more effectively and efficiently.