Brewed with hops grown indoors by AeroFarms and its proprietary vertical farming technology platform
Goose Island UK and AeroFarms®, a certified B Corporation and leader in indoor vertical farming have unveiled today Hail Hydro - a brand new session IPA made from groundbreaking hydroponic hops grown indoors by AeroFarms, who is focused on elevating agriculture around the world and helping address some of our most pressing agriculture supply-chain challenges.

Hail Hydro is the latest beer in Goose Island's Impossible IPA series - a new selection of beers which embrace the creation of new recipes using innovative hops and techniques. The 4.7% hazy session IPA utilizes hydroponic hops grown at AeroFarms' global headquarters in Newark, New Jersey, U.S.A., where AeroFarms has over 100,000 square feet of indoor vertical farming for both commercial and R&D production, utilizing methods that can yield up to 390 times greater productivity annually, while using up to 95% less water and zero pesticides versus traditional field farming.
Skipping the soil, the hydro-cascade hops are submerged in a growing medium that supports and nourishes the roots of the plant with nutrient-rich water through AeroFarms' indoor vertical farming technology platform. This method allows hops to be grown anywhere in the world, at any time of the year with consistent results, and to generate higher yields with fewer resources. With growing seasons and outdoor climate conditions in a major flux right now, hydroponic hops grown in AeroFarms indoor vertical farms for elevated resilience and flavor are undoubtedly the future, and a groundbreaking development in the beer world.
In terms of flavor notes, the beer packs a refreshing citrus punch with hints of lemon and lime, hitting all the right notes when it comes to Session IPAs, clocking in at a delicious 4.7% abv. Fresh and zingy, it tastes as bright as the future of agriculture. Consumers will be able to scan a QR code on the can's packaging that will take them to a farm tour of AeroFarms' unique growing indoor vertical technology.
Hail Hydro is available in limited supply now, only on the Goose Island UK Webstore. www.gooseislandshop.com
"Hydroponically cultivated hops are an exciting prospect, and the potential innovation opportunities and sustainable benefits are exciting for the craft community," said Joe Bevan Innovation Brewer Goose Island UK. "Brewing with the cascade was a new experience for us! We saw zingy lime, soft lemon, and a subtle resinous from the hydroponically grown hops."
"AeroFarms is proud to have partnered with Goose Island UK and the broader Anheuser-Busch InBev team for more than a year to demonstrate our unique growing capabilities," commented David Rosenberg, Co Founder & CEO of AeroFarms. "We have succeeded in growing mature hops as well as propagating high-quality rhizomes, designed to improve field production of hops. The hops used in Hail Hydro were grown in our completely controlled environment, hydroponically with no pesticides, using blue and white lights in place of sunlight to grow the best plants possible. It has been an incredible partnership, bringing their long-time expertise in quality brewing to our research commercialization collaboration. Together, AeroFarms' R&D group and Goose Island UK are demonstrating the promise of a new premium product, pairing master brewing with premium hops that can be grown year-round indoors."
About Goose Island
Established in Chicago in 1988, Goose Island is known for award winning, expertly crafted beers. From flagship brews like the award-winning Goose IPA to Bourbon County Brand Stout, Goose Island endeavors to brew beers worthy of conversations, debates and celebrations - we don't need to be the only beer you drink, we just want to be the best beer you drink.
About AeroFarms
Since 2004, AeroFarms has been leading the way for indoor vertical farming and championing transformational innovation for agriculture. On a mission to grow the best plants possible for the betterment of humanity, AeroFarms is a Certified B Corporation with global headquarters in Newark, New Jersey. Named one of the World's Most Innovative Companies by Fast Company two years in a row and one of TIME's Best Inventions in Food, AeroFarms patented, award-winning indoor vertical farming technology provides the perfect conditions for healthy plants to thrive, taking agriculture to a new level of precision, food safety, and productivity while using up to 95% less water and no pesticides ever versus traditional field farming. AeroFarms enables local production to safely grow all year round, using vertical farming for elevated flavor.™ In addition, through its proprietary growing technology platform, AeroFarms has grown over 550 varieties, has innovated in speed breeding, and has developed multi-year strategic partnerships ranging from government to major Fortune 500 companies to help uniquely solve agriculture supply chain needs. For additional information, visit: https://aerofarms.com/.
On March 26, 2021, AeroFarms announced a definitive business combination agreement with Spring Valley Acquisition Corp. (Nasdaq: SV). Upon the closing of the business combination, AeroFarms will become publicly traded on Nasdaq under the new ticker symbol "ARFM". Additional information about the transaction can be viewed here: https://aerofarms.com/investors/.
Featured Product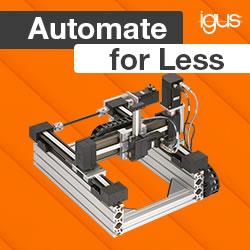 drylin® gantry robots consist of two base X-axes, a Y-axis, and an optional Z-axis. Their self-lubricating plastic liners have been engineered to slide instead of roll and to run smoother and quieter than recirculating ball bearings. drylin® gantries are also lightweight, corrosion-resistant, maintenance-free, and cost up to 40% less than traditional gantry robots. Visit this webpage to learn more.