Bluehouse Greenhouse and Endurant Energy are partnering to provide BHGH's 2.8M sqft California greenhouse with sustainable energy, including heating, cooling and CO2. Endurant is investing $30 million into the project
Contact:

Shane Holland
Bluehouse Greenhouse Inc.
Shane@bluehousegreenhouse.com
9440 Santa Monica Blvd. Suite 301
Beverly Hills, CA 90210
www.bluehousegrown.com
PRESS RELEASE
Endurant Energy and Bluehouse Greenhouse Enter Strategic Partnership to Form Bluehouse Energy
Low-Cost, Sustainable Energy to Power State-of-the-Art Greenhouse Development
California, August 9, 2021: Endurant Energy ("Endurant") and Bluehouse Greenhouse Inc ("BHGH") today announced a strategic partnership to form Bluehouse Energy ("BHE"). Endurant, a full-service developer, owner and operator of innovative, reliable, and resilient clean energy infrastructure solutions, will invest up to $30 million in the development of an on-site 13.2 MW quad-generation ("Quadgen" - providing electricity, hot and chilled water and CO2) Energy Center ("EC"). BHE will supply a comprehensive, state-of-the-art system to address all of the energy requirements and thermal management needs to sustainably and reliably power BHGH's new 2.8 million square feet high-tech glass greenhouse being built in Southern California.
Endurant's investment in an on-site EC is part of a multi-lateral strategic partnership to reduce and stabilize energy costs to support BHGH's ESG strategy in its leading-edge facilities. Further, by using typically wasted byproducts of power generation such as heat, water, and CO2 the EC's efficiency increases from an average of 50% to over 95% putting the EC into a leading sustainability position. The closed loop ecosystem will accelerate crop growth and improve quality while simultaneously minimizing the facility's overall carbon footprint. The Quadgen plant will be built utilizing integrated ECOMAX units supplied by AB Energy USA, a company boasting an impressive portfolio of clients that are leaders in sustainable production of agricultural crops. The master-planned sustainable Food + Energy ecosystem is set to break ground in Winter 2021 and will be in production in Fall 2022.
The BHGH flagship facility will produce more than 50 million pounds annually of clean, safe and traceable fruits and vegetables for local and regional markets, powered by low-cost sustainable energy driving BHGH's commitment to an ESG program. ALPS is overseeing the master planning, design and integration of the facility's numerous sophisticated control and automation systems. ALPS is a world-class design firm focused on the development of high-profile projects in Controlled Environment Agriculture ('CEA") with an exemplary track record spanning over three decades and well over 100 million square feet of greenhouse projects built across the world.
Tom Chadwick, CEO of Endurant, stated, "We are very excited about our partnership with BHGH and our participation in the expanding Agriculture Tech sector. Endurant understands the importance of reliable, affordable, and efficient energy generation to CEA. We have seen an increase in demand for local food, produced in a cleaner, more sustainable and safer way. Our strategic partnership will support BHGH to provide exactly that." Chadwick added, "We are proud to have been selected by BHGH to be their energy infrastructure partner of choice. The innovative energy solution developed and funded by Endurant allows BHGH to focus on their core business with a trusted partner as their long-term energy provider. We look forward to working alongside BHGH as they execute on their growth strategy to expand their operations across the U.S."
Ari Kashani, Founder and CEO of BHGH, commented "Endurant will be a key strategic partner for the Bluehouse Family as we leverage their low-cost, highly curated energy solutions for our greenhouse developments across the nation. Endurant's experienced team and strong execution track record in developing sustainable, off-grid energy solutions was key in developing the long-term partnership. Through Endurant's expertise, we will drive our ESG strategy with stable energy costs and reduce our carbon footprint significantly. This marks the beginning of an exciting partnership between Endurant and BHGH as we execute on our vision to build secure and self-sufficient ecosystems across the nation and move a large part of the agriculture industry to controlled environments."
(High-resolution image available in attachment)
###
Media Contacts
For Bluehouse Greenhouse:
Shane Holland
shane@bluehousegreenhouse.com
For Endurant Energy:
Emma Walker
ewalker@endurant.com
About Bluehouse Greenhouse Bluehouse Greenhouse is an ag-tech company focused on the development and operations of commercial scale, high-tech greenhouses and energy centers to support the growing demand for high quality, sustainable and traceable fresh produce. Our Flagship Facility will be a platform to showcase a larger plan to move a significant portion of the produce market to controlled and sustainable environments. The Company has a unique vision for the future of agriculture real-estate and is working with the world's leading innovators and engineers on curating the most innovative Food + Energy production and distribution facility on the West Coast.
With diminishing natural resources, increasing production costs, a shortage of labor and an increase in demand on food safety regulations, Bluehouse Greenhouse recognizes the current challenges faced by farmers and agricultural landowners alike. Our unique approach combines the values of traditional agriculture real estate + the security of today's cutting edge, innovative and advanced controlled farming practices to provide our stakeholders with sustainable, high-yielding ag-tech Investments. For more information please visit www.bluehousegrown.com and follow us at @bluehousegrown
About Endurant Energy:
Endurant Energy develops and owns reliable, resilient, clean and cost-effective on-site energy infrastructure solutions across the US. It has expertise in a wide range of solutions including renewable thermal systems at single building or district scale, fuel-based technologies for resiliency, solar + storage solutions and an integrated offering for eco-districts. Services include planning, financial structuring, design and construction. Asset management services include operations and maintenance. By integrating solutions into clients' operations, Endurant is enabling the future of sustainable distributed energy. For more information, please visit endurant.com and follow us at @endurantenergy.
###
Remainder of page intentionally left blank
Featured Product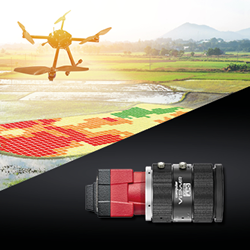 Allied Vision's compact and light weight Alvium SWIR (short wave infrared) cameras are the ideal choice to build cost-effective OEM systems used in embedded and machine vision applications. The cameras support a spectral range from 400 nm to 1700 nm at high quantum efficiencies. This allows to capture images in both the visible and SWIR spectra with a single camera and enables users to reduce overall system costs! Equipped with Sony's IMX990 and IMX991 SenSWIR InGaAs sensors, Alvium SWIR cameras deliver high image quality and frame rates. This makes them well suited for drones or handheld devices used in various industries such as, agriculture, mining, solar cell inspection or medical.