Provides farmer partners early access to innovative ag technologies, including Benson Hill's proprietary seed offerings
Benson Hill, Inc. (the "Company" or "Benson Hill"), a food tech company unlocking the natural genetic diversity of plants with its cutting-edge food innovation engine, today announced the launch of the Benson Hill Food System Innovators Program (the "FSI Program"). Through the FSI Program, the Company is collaborating with leading farmers to evaluate its technologies in commercial production environments. Insights from the FSI Program will further expand the capabilities of the Company's proprietary CropOS® technology platform and optimize field-specific product outcomes and quality traits. One near-term focus of the FSI Program is to continue maximizing the protein content of the Company's innovative soybean varieties intended for the human food ingredients market.

"With Benson Hill's Food System Innovators Program, we're able to be on the cutting edge of what's happening in agriculture today," said Benson Hill Food System Innovators Program farmer Aaron Lee of Cornerstone Family Farms in Salem, Indiana. "We're striving to produce the best product we can and add value to our operation, and Benson Hill is right there beside us. We're eliminating waste, improving efficiency and driving toward a more sustainable operation. It's exciting to play a role in changing the food system."
The FSI Program initially includes farmers in six states for the 2021 crop year. The FSI Program is designed for farmers who have a demonstrated track record as early innovation adopters, including deploying precision agriculture technologies. It enables a two-way flow of information, directly connecting farmers with Benson Hill's research and product development team. Participating farmers will benefit from early access to the latest Benson Hill product concepts and potential premium opportunities in plant-based protein and other high-value markets.
"Real-time feedback on performance, productivity and other factors is foundational to future innovation at Benson Hill," said Matt Crisp, Chief Executive Officer of Benson Hill. "Our farmer partners recognize the growing market demand for plant-based food solutions as an opportunity rooted in better seeds. They share our vision for a modern and more resilient food system that can deliver high-quality, high-protein, sustainable ingredients to meet this demand while supporting strong farmer ROI."
The Benson Hill Food System Innovators Program is one of several farmer programs the Company has developed to deliver food made better from the beginning through its integrated supply chain. Learn more at www.bensonhill.com/farmers.
Benson Hill's relationship with its farmers is unique in that it utilizes the Company's integrated model, spanning the entire supply chain. The Company works with farmers, processors and others to support identity preservation and product tracing from seed to ingredient. Benson Hill anticipates that the result is an end-product that provides more sustainably produced, traceable, less processed and more affordable food choices to consumers.
About Benson Hill
Benson Hill moves food forward with the CropOS® platform, a cutting-edge food innovation engine that combines data science and machine learning with biology and genetics. Benson Hill empowers innovators to unlock nature's genetic diversity from plant to plate, with the purpose of creating healthier, great-tasting food and ingredient options that are both widely accessible and sustainable. More information can be found at bensonhill.com or on Twitter at @bensonhillinc.
On May 10, 2021, Benson Hill announced a definitive business combination agreement with Star Peak Corp II (NYSE: STPC). Upon the closing of the business combination, Benson Hill will become publicly traded on the New York Stock Exchange under the new ticker symbol "BHIL". Additional information about the transaction can be viewed at: https://bensonhill.com/investors/ or https://stpc.starpeakcorp.com/.
Featured Product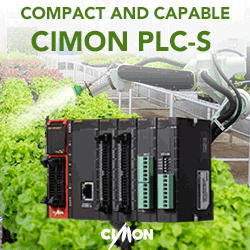 CIMON-PLC is an industrial control device based on international standards of IEC61131. It is designed for a plant site that requires industry-leading reliability. CIMON-PLC is optimized for Industry 4.0 and enhances the intelligence of industrial sites.