Less than 2 years after being founded, the agritech startup ONDO Solutions raised 1 million euro in a new investment round led by Eleven Ventures.
Less than 2 years after being founded, the agritech startup ONDO Solutions raised 1 million euro in a new investment round. The lead investor was, once again, Eleven Ventures - the fund who first saw the potential of ONDO as a product and team. The new investors in this round are Sofia Angels Ventures, BrightCap VC, MFG Invest, HR Capital and the entrepreneur Georgi Zahariev.

The stable growth of the company and the fast completion of this second investment round show the recognized potential of the solutions offered by ONDO for automated precise irrigation, fertigation and climate control. Within mere 1.5 years and considering the challenging circumstances caused by coronavirus, the company already has its solutions successfully working in 15+ farms across Bulgaria and North Macedonia - both greenhouse and open field farms.
In addition to successfully completing its customer projects, the company has also extended its software platform, as well as the hardware solutions, has won 6 of the most prestigious awards in the sphere of technology and innovations in Bulgaria and is now looking forward to positioning itself on the Israeli market as well, following the invitation it received to join one of the most powerful agrifood innovation hubs in the world - EIT FAN in Haifa.
"After our first investment and seeing the successful integration of ONDO in a number of farms, which practically proved the efficiency of the solutions offered by the company, it was a natural follow-up step to be the lead investor for the next investment round. To us ONDO is a showcase for all positive signs we are looking at when evaluating whether or not to invest - on one end, a well-bonded and very experienced team, who is listening to advice we give, on the other end - an excellent product on a huge market, in a sector that is of particular interest to us - the so-called "Future of Food" as we name it in our team.", shared Ivo Simov, partner in Eleven Ventures.
"The team at Sofia Angels Ventures is glad to support ONDO on the road to their expansion. The agritech segment is really promising and ONDO has demonstrated excellent technology capabilities.", said Georgi Sidjimkov, partner in Sofia Angles Ventures.
ÔÇ×We want to thank all investors for their trust in the company, and also thank our team for their hard work and motivation. This new investment will allow us develop our partner network of system integrators and resellers, grow the platform, boost our sales in all countries from the Balkan region and enter other international markets, including put our foot in some of the most developed markets for precision farming and farming automation solutions - the Dutch and the French markets" shared the CEO of ONDO Solutions Ilia Iordanov.
ONDO (www.ondo.io) is a solution for precision farming automation created by the Bulgarian company ONDO Solutions. It is a smart system for automated precision irrigation, fertigation and climate control, for all crops. ONDO can be used in greenhouses and open fields alike and integrates with existing or new irrigation and climate control infrastructure. ONDO software platform can automatically manage all irrigation, fertigation and climate control processes in a farm, cutting down the usage of resources such as water, energy, fertilizer, etc and boosting the crop yield. ONDO can be managed remotely by the farmers, from any device connected to the Internet.
Featured Product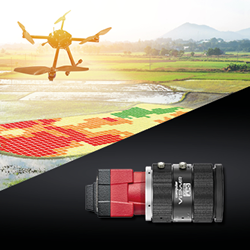 Allied Vision's compact and light weight Alvium SWIR (short wave infrared) cameras are the ideal choice to build cost-effective OEM systems used in embedded and machine vision applications. The cameras support a spectral range from 400 nm to 1700 nm at high quantum efficiencies. This allows to capture images in both the visible and SWIR spectra with a single camera and enables users to reduce overall system costs! Equipped with Sony's IMX990 and IMX991 SenSWIR InGaAs sensors, Alvium SWIR cameras deliver high image quality and frame rates. This makes them well suited for drones or handheld devices used in various industries such as, agriculture, mining, solar cell inspection or medical.