A recent report published by Precision Business Insights on Vertical Farming Market provides in-depth analysis of segments and sub-segments in the global as well as regional.
The global vertical farming market is estimated to reach xx mn in 2021 and projected to grow at the CAGR of xx% during 2021-2027. The increase in population lead to increase in demand for food, lower dependency of farming on weather conditions, lesser use of water for cultivation of crops, ability to produce high quality crops throughout the year.

This report studies, market dynamics elaborately to indentify the current trends & drivers, future opportunities and possible challenges to the key stakeholders operating in the market. In addition, global vertical farming market report includes human demographics; regulatory scenario, and competition analysis with vividly illustrated the competition dashboard to assess the market competition. The Key stakeholders of the global market report include suppliers, manufacturers, marketers, policy makers, and healthcare service providers engaged in global vertical farming market products & services.
The global vertical farming market trends are analyzed across various segments including growing mechanism, component, structure, crop type and geography. On the basis of growing mechanism, the market is categorized into hydroponics, aeroponics, and aquaponics. Depending on component, the market is sub-segmented into irrigation component, lighting, sensor, climate control, building material, others. The Structure segment is building-based vertical farms, shipping container-based vertical farms. By crop segmented into fruits and vegetables, herbs and microgreens, flowers and ornamentals, other crop types.
The regions covered in the global vertical Farming market are Asia-Pacific, Western Europe, Eastern Europe, North America, South America, Middle East, Africa. Asia pacific vertical farming market projected to grow at significant rate owing to increase in the urban population, increase in demand for chemical free food, lack of proper environmental conditions for the production of various crops and enhanced awareness regarding organic farming.
The major players covered in the global vertical Farming market are AeroFarms, Agrilution, AMHYDRO (American Hydroponics), Everlight Electronics Co., Ltd, 4D Bios Inc., Hort Americas, Illumitex Inc., Urban Crop Solutions, Koninklijke Philips N.V., and Sky Greens.
Featured Product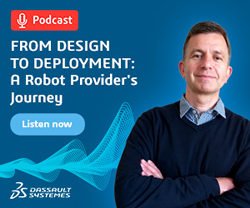 Let's listen to Arvind Krishnan, industry analyst at Lifecycle Insights and Michael Mayr, Industrial Equipment Sales Strategy Expert at Dassault Systèmes. They will discuss the robot industry and how startups can succeed in this market.