New integration features and data layer types are planned for release throughout 2021
Agworld, the world's leading collaborative farm information ecosystem and Laconik, an agricultural platform that empowers growers to make economically optimum fertiliser decisions, announced that they have chosen to create an integration between the respective product offerings. Agworld has always had a focus on helping growers manage their risks and rewards, and helping them make more profitable decisions; Laconik's vision and service offering focuses on exactly the same, making a product integration a natural first step in the relationship between both businesses.

Laconik empowers growers and agronomists to conduct their own scientific measurements of fertiliser responsiveness and profitability. Different fertiliser rates are allocated to treatment plots against a backdrop of a blanket or flat rate across the field or zones of different rates created by the grower or agronomist, to create a variable rate prescription. These prescriptions can then be loaded directly into rate controllers, or even be routed online through the My John Deere platform. Throughout the season NDVI imagery is provided to clients so that variances and responses to fertiliser applications can be detected. At the end of the season yield data is uploaded to the Laconik platform, which is then broken up into the individual plots so that a statistical and economic response can be calculated. Laconik's clients will improve the accuracy of their fertiliser decisions by up to 30% and increase farm profits by up to $50 per hectare.
"The aim of Agworld is to connect the industry, which means connecting with their service providers such as their agronomist as well as new and novel service providers such as Laconik," says Doug Fitch, Agworld CEO. "We are always looking for new service providers to join our ecosystem and add value to our mutual clients: growers and their advisors. With Laconik and Agworld, the value proposition of the integration is very easy to see: Agworld is the most used digital tool by growers and agronomists in Australia, and Laconik offers a new product that helps growers create a better ROI on their most expensive crop input. Being able to display Laconik's data layers in Agworld to all connected users of the farming business is sure to be popular with our users."
The initial integration stage allows Laconik trial data layers to flow into Agworld so that strip or randomised trials will be visible as a layer on Agworld farm maps. Laconik data layers can be shared with any user connected to a farm company in Agworld, such as an agronomist. More integration features and data layers are planned for release throughout 2021.
Laconik Managing Director Dr. Darren Hughes comments: "In my 20+ years' experience across the agricultural industry, I have seen how R&D can make a big difference to growers. Too often however, is a great technology locked up in a 'silo' and not made easily accessible to growers in the field, leading it to slowly fade away. By creating an integration between Agworld an Laconik we are making Laconik's superior technology available through the most-used farm data tool in Australia and abroad, lowering the threshold for growers to adopt Laconik's technology as much as possible. I look forward to working with Agworld over the course of 2021 and beyond to keep improving our partnership and integration."
About Laconik
Laconik is the only agricultural platform that combines real measurement of profit from fertiliser to make economically optimum fertiliser decisions. Laconik's proprietary two-step process enables replicated trials to measure actual profit from fertiliser to provide more accurate fertiliser decisions. As a result, Laconik customers will improve the accuracy of their fertiliser decisions by up to 30% and increase farm profit by up to $50/ha. Laconik was founded by a team of agricultural industry veterans with a common view to helping growers improve the ROI they achieve on their fertiliser applications. Learn more about Laconik at laconik.com.au.
About Agworld
Agworld is an international Farm Information Management Ecosystem, founded in 2009, headquartered in Perth, Western Australia. A global leader in collaborative farm management enabling growers, advisors and third parties to work together as one on a single platform. Agworld's industry-leading standardised database makes it quick and easy to create accurate, reportable farm data. With over 100 million acres paid for and managed in Agworld across five countries, Agworld has the experience, capacity and market presence to support the delivery of innovation to growers, agronomists and those that serve them. Learn more about Agworld at http://www.agworld.com.
Featured Product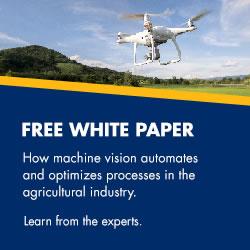 The flexibility and high quality of MVTec software contribute decisively to your sustainable economic success. The software architecture allows fast development of all kind of machine vision applications and thus the development of new automation solutions. This results in cost savings and an improved time to market for you. Find out in our free white paper how you can increase the efficiency of your agricultural value-added processes sustainably. You will learn how the technology works and the specific ways in which its use supports modern agricultural processes. Furthermore, we present you diverse practical application scenarios and dive in advanced agricultural enterprises benefit from the many advantages.