AeroFarms' newest indoor vertical farm will be the largest of its kind dedicated to the latest in Research & Development
AeroFarms, a certified B Corporation and leader in indoor vertical farming, today announced that AeroFarms AgX LTD, its wholly owned subsidiary in the United Arab Emirates ("AeroFarms AgX"), has started construction in Abu Dhabi on the company's state-of-the art Research Center focused on the latest developments for indoor vertical farming, innovation, and AgTech.

In partnership with the Abu Dhabi Investment Office (ADIO), which is focused on enabling investment opportunities in Abu Dhabi, AeroFarms AgX will bring innovative research and development to the UAE and the Middle East to advance sustainable controlled environment agriculture (CEA) and vertical farming and help address broader global agriculture supply chain issues.
Last year, ADIO announced that it is providing $150 million in incentives to bring global AgTech pioneers to Abu Dhabi, including its partnership with AeroFarms to build a vertical farming facility dedicated to developing next generation agriculture in arid and desert climates. The transformational R&D conducted at AeroFarms AgX is expected to enable new business lines, technologies, and growth of the AeroFarms platform, while serving as a hub for regional expansion. AeroFarms AgX is expected to be completed and operational in the first quarter of 2022.
H.E. Dr. Tariq Bin Hendi, Director General of ADIO, said: "This important milestone for AeroFarms AgX is another step in the realization of Abu Dhabi's mission to 'turn the desert green'. In line with this goal, ADIO is supporting innovative technology that has the potential to impact farming practices across the globe and improve the food production value chain worldwide. AeroFarms AgX will add to the growing capabilities of Abu Dhabi's agriculture ecosystem while benefiting from the emirate's plentiful land, natural heat, competitive energy prices, access to research universities, and skilled talent."
At 54,000 square feet, AeroFarms AgX will be the largest indoor vertical farm of its kind for research and development in the world, leading the way in breakthrough innovation to solve some of the world's most pressing agriculture challenges. AeroFarms AgX will employ a projected 60 highly skilled engineers, horticulturists and scientists and will have high-tech laboratories conducting organoleptic research and precision phenotyping, phytochemical analysis, advanced speed breeding, as well as next-generation machine vision, machine learning, robotics, and automation. AeroFarms AgX will also play a key role in Abu Dhabi's AgTech ecosystem by working with local universities on research projects to tackle problems of agriculture within desert and arid climates.
David Rosenberg, Co-Founder and CEO of AeroFarms, commented: "This is an important development for AeroFarms as we expand globally and leverage our R&D and growing expertise. AeroFarms has been the global leader for controlled environment agriculture since 2004, and we will utilize this cutting-edge R&D Center to conduct the latest research in plant science, vertical farming and automation, accelerating innovation cycles and commercializing products. Our vision has always been to leverage our expertise in plant biology and build on our successful history of collaborating with government, universities, industry and major international companies. We are pleased to take this step forward and proud to be a catalyst for helping to establish the Emirate of Abu Dhabi as a global hub for AgTech innovation."
About AeroFarms
Since 2004, AeroFarms has been leading the way for indoor vertical farming and championing transformational innovation for agriculture. On a mission to grow the best plants possible for the betterment of humanity, AeroFarms is a Certified B Corporation Company with global headquarters in Newark, New Jersey, United States. Named one of the World's Most Innovative Companies by Fast Company two years in a row and one of TIME's Best Inventions in Food, AeroFarms patented, award-winning indoor vertical farming technology provides the perfect conditions for healthy plants to thrive, taking agriculture to a new level of precision, food safety, and productivity while using up to 95% less water and no pesticides ever versus traditional field farming. AeroFarms enables local production to safely grow all year round, using vertical farming for elevated flavor. In addition, through its proprietary growing technology platform, AeroFarms has grown over 550 varieties and has developed multi-year strategic partnerships ranging from government to major Fortune 500 companies to help uniquely solve agriculture supply chain needs. For additional information, visit: https://aerofarms.com/.
On March 26, 2021, AeroFarms announced a definitive business combination agreement with Spring Valley Acquisition Corp. (Nasdaq: SV). Upon the closing of the business combination, AeroFarms will become publicly traded on Nasdaq under the new ticker symbol "ARFM". Additional information about the transaction can be viewed here: https://aerofarms.com/investors/
Featured Product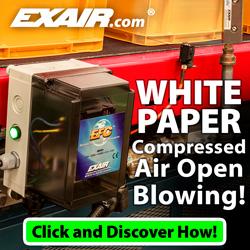 Compressed air is a limited resource that is generated in-house for the benefit of many operations within the manufacturing environment. Learn how to ensure all point of use applications are using your compressed air in the most effective and efficient way possible. Learn how much it costs to produce that compressed air and how Engineered Nozzles can help you use your air more effectively and efficiently.