Company intends to launch first five pilot programs within the U.S. in 2021
Globally, we are running out of water and land and facing growing difficulties in utility costs and climate control for growing the food we require and sustaining strong and sufficient agricultural commerce. However, a new company, Selu.earth, is providing the answer. Selu is an innovative company that has created patent-pending technologies to reclaim atmospheric humidity, produce renewable energy, and CO2 fertilize agriculture environments to regulate temperature and humidity.

The result is an all-in-one climate-control utility system to enhance plant growing conditions. "Selu Oasis" provides agribusiness customers with the ability to grow and harvest food in many more areas than were previously available or viable, thanks to the ability to enhance and strengthen the natural resources required for growing.
By vastly increasing the locations and amount of land available for growers, the Selu Oasis system allows agribusiness providers to reduce overhead costs while achieving maximum potential growth yields. To that end, the company is seeking and intends to launch five pilot programs to support greenhouses, agriculture infrastructure suppliers, and vertical farms in the U.S.
"By providing universal climate control conditions from one solution, our customers will be able to better realize lower utility costs and higher crop yields," says Jake Hammock, Selu's founder and CEO. "Now is the time for producers to have a lower universal utility access solution to grow closer to consumers without the hassle of multiple climate controlling devices saturating energy costs."
"By adapting and using the Selu Oasis technology, our customers will not only receive substantial utility savings, but will also replenish the environment through our carbon-neutral solution."
Selu's technology addresses seven of the United Nations' Sustainability Development Goals (SDGs):
Zero hunger,
Clean water and sanitation,
Affordable and clean energy,
Decent work and economic growth,
Industry innovation and infrastructure,
Sustainable cities, and
Life on land.
In all, Selu's goal is to strengthen and enhance nature to liberate all life, while empowering agribusiness with immense commercial value.
About Jake Hammock
Jake Hammock is a futurist, a creator and inventor, technologist and environmental pioneer who envisions a world where water and energy are no longer scarce. Hammock brings 15-plus years of military and commercial executive leadership in innovative tech management positions to Selu and is a U.S. Army combat veteran who has worked with DARPA and other advanced research agencies.
Hammock's travels and his active executive roles in philanthropy have made him keenly aware of the problems that lack of clean water and energy have caused throughout the world.
About Selu
Selu Technologies, Inc. (Selu.earth) is a privately held company in Salt Lake City, Utah, that is developing revolutionary and patent-pending technologies to convert atmospheric moisture into clean water, renewable energy and clean air through an all-in-one, climate-control utility system called "Selu Oasis." In its first implementation, Oasis provides Agribusiness customers with the ability to grow and harvest food to reduce overhead costs while achieving maximum potential growth yields while also replenishing our environment. For more information, investors, customers and prospective partners can visit www.selu.earth.
#Agribusiness #Agtech #CleanWater #Sustainable #WaterIsLife #SustainableWater #AlternativeEnergy #SustainableEnergy #CarbonNeutral #TechThatMatters #Innovation #FoodSecurity
Selu Technologies, Selu.earth, Selu and Oasis are copyrighted as the exclusive intellectual property of Selu Technologies Inc.
Featured Product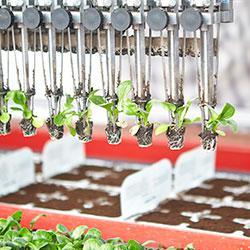 FAULHABER MICROMO launches the new MC3/MCS motion control family. The new high performance, intelligent controllers are optimized for use with FAULHABER motors, offer electronics for simple operation with state-of-the-art interfaces for multi-axis applications, and provide a motion control system solution with the most compact integration into industrial grade housing.