Dispatch Pro™ Expands Slingshot® Technology to the Industry's First Connected Workflow™ Solution
Raven Industries, Inc. (the Company; NASDAQ:RAVN) announced today the release of Dispatch Pro™. This comprehensive program provides ag retailers and enterprise farms with a fast and flexible solution for all dispatching tasks. Dispatch Pro extends Raven's Connected Workflow™ so users can track their fleets, make data-driven decisions and control dispatching all in one location.

"The agriculture industry has some of the most advanced technology in the world, but most operations are still using paper and pencil or multiple software applications to complete a majority of critical daily tasks," said Sarah Walter, Senior Director of Global Sales for Raven Applied Technology. "Our customers can save thousands of dollars in a single season by implementing Raven's Connected Workflow™ and using features like Job Sync, Fleet Analytics, Machine View and, now, Dispatch Pro™. These are complicated operations with hundreds of moving parts; having everything you need in one place to manage each machine and job is extremely valuable."
Dispatch Pro™ is the solution for ag retailers and enterprise farmers to have control over their fleets to make real-time dispatching decisions. The system provides real-time fleet visibility, allows users to make dispatching decisions, and provides every operator with the knowledge of the exact field in which they are needed. Dispatch Pro is an unmatched scheduling program that enables operators to:
View in-route, active and idle equipment status.
Know when assets are not working so they can be reassigned where needed.
Dispatch across locations.
Assign jobs with a click of the button.
"Without Dispatch Pro™, we would have to use a wall map to make the most efficient use of equipment and logistics, routing our machines daily, which consumes many hours of your day," said Nick Larsen, West Agronomy Operations Leader, StateLine Cooperative. "Dispatch Pro cuts the time substantially — just click and drag workorders to equipment."
Slingshot® is the agriculture technology solution that enhances efficiency, increases accuracy, minimizes variability, and maximizes the bottom line. Through Raven's Connected Workflow™, ag retailers were given the information to make timely decisions. Now, with Dispatch Pro™, they can act on those decisions seamlessly.
Ag retailers and enterprise farms can save thousands a year with Dispatch Pro™. Visit www.ravenprecision.com/slingshot to schedule a demonstration of Raven's Connected Workflow™ and see how much your operation can save.
About Raven Industries, Inc.
Raven Industries (NASDAQ: RAVN) provides innovative, high-value products and systems that solve great challenges throughout the world. Raven is a leader in precision agriculture, high-performance specialty films, and aerospace and defense solutions, and the company's groundbreaking work in autonomous systems is unlocking new possibilities in areas like farming, national defense, and scientific research. Since 1956, Raven has designed, produced, and delivered exceptional solutions, earning the company a reputation for innovation, product quality, and unmatched service. For more information, visit https://ravenind.com.
About Raven Applied Technology
For decades, Raven Applied Technology has been committed to maximizing operational efficiencies through its innovative agriculture technology. The company's autonomous product suite, Raven Autonomy™, is an extension of that core. From field computers to sprayer and planter controls, GPS guidance steering systems, logistics technology, and autonomous solutions — Raven provides precision agriculture products designed for ag retailers and growers to remain competitive and profitable into the future. Learn more at https://ravenprecision.com.
Featured Product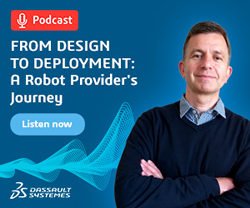 Let's listen to Arvind Krishnan, industry analyst at Lifecycle Insights and Michael Mayr, Industrial Equipment Sales Strategy Expert at Dassault Systèmes. They will discuss the robot industry and how startups can succeed in this market.