Startups can apply for the Feed the Future Challenge from March 3 to May 15, 2021. The winners will have the opportunity to run a pilot with Lely.
Amsterdam, March 3, 2021: Rockstart, global accelerator-VC, announces that applications for the Feed the Future Challenge 2021, organized in partnership with Lely, are now open. The Feed the Future Challenge 2021 will be supported by Rockstart, who will play a key role in scouting and preparing the startups to work with Lely. The 2021 edition, which calls on the next generation of tech pioneers to revolutionize the dairy industry with their technological solutions, comes after the two companies successfully collaborated to produce the first edition of the challenge in 2019. Startups can apply for the Feed the Future Challenge from March 3 to May 15, 2021. The winners will have the opportunity to run a pilot with Lely.

Global challenges in population growth and climate change call for out-of-the-box solutions. Lely invests in innovations that contribute to sustainability and greater transparency and that prioritize improving the lives of farmers and animals in the food production process. The Feed the Future Challenge was designed to tackle four key areas in global dairy farming: farm animal welfare, pioneering enhancements of machinery, sustainable and efficient production, and transparency in the information chain.
"Lely has a strong focus on the future of dairy farming and we are always looking for new ways of creating a more profitable, enjoyable and sustainable future. The Feed the Future event is an important initiative to find the next generation of passionate, bright entrepreneurs who can apply their innovations to our sector. We are looking forward to working and innovating together with startups." -Martijn Boelens, CTO, Lely
Kim Geesink, Corporate Engagement Director, Rockstart also commented:
"At Rockstart our job is to identify, accelerate and invest in the next startups that will revolutionize their industry, therefore working with Lely on Feed the Future 2021 (for the second time!) is very fitting. This year we have the benefit of putting our learnings into practice, and can run an even better program resulting in higher quality partnerships between the startups and Lely."
Rockstart will continue to work together with Lely to help startups and corporates crack the code of collaboration, driving faster access to co-creation, commercial partnerships, and investments. The Feed the Future Challenge 2021 will provide tailored support to agtech startups striving towards more sustainable and circular farming. Rockstart has experience in designing and executing corporate partnerships together with Lely, Maersk, Shell and many others.
Startups can find more information and apply at https://feedthefuture.io/activity/challenge-2021/. The application deadline is May 15, 2021.
About Rockstart
Rockstart launched in 2011 in Amsterdam. Today, Rockstart is a global accelerator-VC that empowers purpose-driven founders on their way to success across three domains: Energy, AgriFood, and Emerging Technologies. Rockstart provides startups with access to capital, market, community, and expertise by connecting them to partners, investors, mentors and the wider Rockstart network.
Rockstart also creates programs that are customized to boost collaboration between startups and corporates, driving faster access to co-creation, commercial partnerships, and investment. Rockstart has experience in designing and executing programs for Maersk, Shell, Lely, and many others.
Since its inception, Rockstart has invested in more than 230 startups and supported them in their journey to raise more than €90 million and hire more than 700 people. Rockstart is an international team of +35 professionals dedicated to empowering founders to become scalable and change the world for the better. Rockstart has notable exits such as Wercker, Bouw7, iClinic and, in January 2021, 3D Hubs and Brincr. The company has offices in Amsterdam, The Netherlands, Copenhagen, Denmark and Bogota, Colombia.
About Lely
Lely, established in 1948, focuses on a sustainable, profitable and pleasant future for the agricultural sector. With cows at the centre, the company develops high-quality robots and data systems that improve animal welfare and the flexibility and production on the dairy farm. For more than 25 years, Lely has been a world leader in sales and service of automated systems to successive generations of dairy farmers. Every day Lely inspires its employees to offer innovative solutions to customers and to be a trusted partner for long-term advice and support. With its headquarters in Maassluis and a worldwide network of dedicated Lely Center offices for tailor-made sales and service, Lely Group is active in more than forty countries and employs some 1600 people.
Featured Product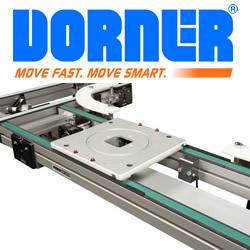 Dorner's 2200 Series Precision Move Pallet Systems are ideal for assembly automation. With features such as an innovative timing belt conveyor design and industry best pallet transfers, they get your product to the exact location, at the exact time and in the exact position it needs to be. They are now available with new options such as heavy load corner modules with 150 lb. capacity and 180 degree tight transfer corners for compact loops.