Pinduoduo provides an online marketplace that connects millions of agricultural producers with consumers across China. Pinduoduo aims to bring more businesses and people into the digital economy so that local communities can benefit from the increased productivity and convenience through new market opportunities. For more information on Pinduoduo news and industry trends, please visit our content hub at http://stories.pinduoduo-global.com/.
American farm-to-table pioneer Alice Waters started a food revolution in 1971 with the opening of her restaurant, Chez Panisse, in Berkeley, California. She championed the serving of local in-season ingredients grown by local producers.

Fifty years on, farm-to-table has become a global social movement, driven by concerns over food provenance, the distance food has to travel to land on our plate, and who benefits from the production.
In China, a seismic transformation is similarly taking place with the rise of online grocery shopping as the proverbial farm is being brought closer to the table by the likes of Pinduoduo.
The pandemic provided the catalyst for the change in consumer behavior. While most consumers in China went online to buy their fresh produce out of necessity, many are staying for the convenience and price. This has created an online grocery market that some analysts predict will be worth more than $120 billion by 2023.
"With sufficient demand and scale, the unit economic costs of farm-to-table can be drastically improved to make this accessible to a wider group of consumers than ever before," said Lillian Li, a Shanghai-based tech analyst. "I think it's really showing an eventual bifurcation of the market between emphasizing on freshness as a core value proposition versus available of variety."
Among the leading grocers serving this change in consumer behavior is Pinduoduo, which operates China's largest agricultural platform. It introduced Duo Duo Grocery, a next-day pick-up service in August 2020 in response to the pandemic, leveraging on the platform's connection with 12 million farmers and 731 million consumer base.
Consumers who use Duo Duo Grocery can place their orders through the main Pinduoduo smartphone app before 11 pm and pick up their order at a nearby collection point after 4pm the next day.
The consumers choose from a curated selection of produce from local farms. The orders are consolidated each night, and the freshly harvested produce are sent from farms to sorting stations, where the individual orders are packed and transported to the respective collection points.
By matching local demand directly with supply, online grocery apps are helping to widen the market access for farmers beyond traditional wholesalers. Over the long run, better real-time matching of demand and supply helps reduce the amount of unsold food, while shorter transportation distances reduce spoilage and the need for chemical preservatives.
The self-collection model also helps reduce the cost of logistics, as the "last mile" delivery to doorstep can account for 30% of the total delivery cost. This helps keeps prices low and affordable.
"We see farm-to-table becoming even more widespread with the use of technology to match small producers with consumers," said Andre Zhu, senior vice president at Pinduoduo. "Shortening the time between harvesting and cooking ensures freshness, minimizes wastage and transportation emissions, and safeguards food security."
Featured Product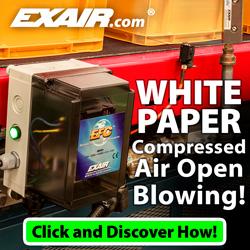 Compressed air is a limited resource that is generated in-house for the benefit of many operations within the manufacturing environment. Learn how to ensure all point of use applications are using your compressed air in the most effective and efficient way possible. Learn how much it costs to produce that compressed air and how Engineered Nozzles can help you use your air more effectively and efficiently.