-The future of agriculture starts here -Global 24 hour virtual event | 16 and 17 February 2021
With the Covid-19 pandemic lockdown, many farmers are facing severe adversity and some are out of the business due to poor cash flow. It definitely impacted the food supply chain too. Also, farmers are adopting precision farming technologies to help monitor the farm activities. This is the reason that agriculture technology plays a very crucial part in their work.

The Global Agriculture Technology Summit 2021 is our first ever 24-hours marathon virtual conference with the presence of key industry players gathered around the world to discuss current issues and emerging opportunities through the lens of science and technology. The summit will also focus on mixtures of topics such as precision agriculture, vertical farming, talent management, water & soil management, fintech in agriculture, women in AgTech, cyber security and more. It will consist of case study presentations from thoughts leaders and interactive panel discussion to debate on some of the trending dialogues.
Why you should attend:
- Discuss good practices and innovative ideas in agriculture technology
- Learn how your farm could afford technologies yet practical
- Strengthen resilience and agility in business
- Ensure food safety through traceability technology and safety measures
- Maximize your knowledge in fintech and insurance in agriculture
Some of our confirmed speakers:
- Rachid Serraj, Delivery Manager, Regional Initiatives on Small Scale Family Farming, Food and Agriculture Organization of the United Nations
- Paul Voutier, Director, Knowledge and Innovation, Grow Asia
- Jon Ray, Branch Chief, Emergency Management, US Department of Agriculture
- Ruan Boezaart, Vice President, Digital Farming - Global Emerging Markets, Yara International
- Dr. Ayad Aldaijy, Adviser to Ministers and CIO, Saudi Arabia Minister of Environment, Water and Agriculture
- Imelda Bacudo, Senior Consultant and Expert, ASEAN Climate Resilience Network
- Rajendra Uprety, Division Chief, Food Security & Agribusiness Promotion Division, Ministry of Land Management, Agriculture & Cooperatives
- Melanie Levine, Associate, Food, Nature and Global Agribusiness Alliance, World Business Council for Sustainable Development
Click here to view all speakers: https://www.digitalagtech.com/speakers
At Wisdom we remain positive that 'normality' will soon return and that we will be able to physically meet together once again as speakers, delegates and sponsors at our beautiful venues around the world. But meanwhile, life continues and we need to keep in touch and learn from each other. This 24-hour virtual event will be of great benefit and value to your businesses and its continued development during these challenging times. While this virtual event comes at a lesser cost, it provides for now a wider reach into an international audience, with flexibility of access to content as well as allowing you to have the same opportunity as at a face-to-face session for one-to-one business meetings. We look forward to welcoming you in February.
Featured Product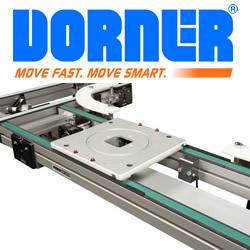 Dorner's 2200 Series Precision Move Pallet Systems are ideal for assembly automation. With features such as an innovative timing belt conveyor design and industry best pallet transfers, they get your product to the exact location, at the exact time and in the exact position it needs to be. They are now available with new options such as heavy load corner modules with 150 lb. capacity and 180 degree tight transfer corners for compact loops.