FarmERP joins hands with The Global G.A.P., becoming the member of this renowned worldwide organization that is a trademark, along with being a set of standards for Good Agricultural Practices (G.A.P.).
Back in 2001, at a time when there was little to no connection between agriculture and technology, a Pune-based startup, Shivrai Technologies, founded by technology entrepreneurs Sanjay Borkar and Santosh Shinde, developed the FarmERP platform that began to bridge the gap between these two industries. Today, FarmERP is not only a pioneer in the AgriTech industry, but it is also the leading solutions provider to various industries spanning the entire Agricultural Value Chain.

"We started our journey by working with individual small farmers and eventually we expanded our reach by working with large size farms and agri-businesses", said Sanjay Borkar, CEO & Co-Founder of FarmERP. "Today, we are serving in more than 25 countries" he added.
Pune-based AgriTech Company FarmERP was the innovation made by Sanjay Borkar and Santosh Shinde. They dreamed of creating a digital platform that would empower farmers and make a difference in the agricultural sector, and today they have done just that.
FarmERP offers a future-ready, agriculture ERP platform for smart agriculture to achieve higher efficiency, higher yields, higher profitability, and complete traceability. Their solutions cater to multiple sub-verticals in the agriculture industry like Biotech, Organic Farming, Export, R&D, and a host of others.
To connect farmers to markets where they can sell their safe and sustainable agricultural products by developing and implementing farm assurance systems that are based on facts and recognized across the supply chain, the Global Good Agricultural Practice (G.A.P) was founded in the year 1997 in Europe. Over the next ten years, the process spread throughout the European continent and beyond. Driven by the impacts of Globalization, a growing number of producers and retailers around the world joined in, gaining the organization's global significance. GLOBAL G.A.P. today is the world's leading Farm Assurance program, translating consumer requirements into Good Agricultural Practices in a rapidly growing list of countries - currently more than 135.
With similar core values, FarmERP has taken a step and joined Global G.A.P as an associate member. The four pillars of FarmERP link closely to GLOBAL G.A.P.'s objective of enabling safe, sustainable agriculture worldwide. FarmERP's four pillars are:
1. Sustainable Agriculture - helping agribusinesses reduce their carbon footprint and bolster their productivity without degrading the environment and ensuring enough and more resources available for future generations.
2. Climate Resilience - assisting agribusinesses with intelligent climate-related insights (climate-smart advisory), and reducing uncertainty surrounding climate conditions.
3. Food Safety - supporting agribusinesses in providing top-quality produce through advanced, high-tech features for quality control.
4. Traceability - ensuring complete transparency throughout the entire agricultural value chain from the source of produce, farming practices, and packaging & transportation processes.
"The FarmERP digital platform has been impacting the lives of farmers and consumers since 2001. Food safety, traceability, and sustainability are our focus areas, in line with the United Nation's Sustainable Development Goals. Joining GLOBAL G.A.P. will help us serve farmers and consumers better than ever," says Sanjay.
Intending to make farming more predictable and profitable for farmers, FarmERP is continuously executing new projects that would help farmers in the entire process of agriculture including mapping, and tracing this entire process, from pre-sowing to harvesting, procurement, and sales, to traceability. The recent "Uberization project", initiated by FarmERP for smallholder growers ensures farmer-buyer linkage. FarmERP extends expertise to these farmers to understand & measure quality standards that the buyers expect. FPC/FPO and buyers are both benefited by meeting demand and supply at both ends.
"The Uberization Project for smallholder farmers is one of the steps taken by us, (FarmERP) that goes in line with the objectives of Global G.A.P as well as stands true to the four main pillars of our organization. Through this project we aim at helping and advising farmers, making their practice a more efficient and predictable affair." ~ Mr. Santosh Shinde, COO and Co-Founder, FarmERP
By joining hands in becoming an associate member of Global G.A.P, FarmERP aims at serving and reaching out to more farmers and consumers, helping them to achieve better yields and profits more predictably, while also maintaining safe and sustainable agricultural practices, for the benefit of both, consumers, as well as farmers.
Featured Product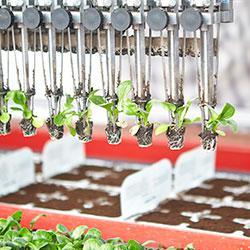 FAULHABER MICROMO launches the new MC3/MCS motion control family. The new high performance, intelligent controllers are optimized for use with FAULHABER motors, offer electronics for simple operation with state-of-the-art interfaces for multi-axis applications, and provide a motion control system solution with the most compact integration into industrial grade housing.