Uncovers valuable business and customer insights from retailers' own sales data
London, UK - 8 September 2020: Proagrica, the largest tech and data business serving the global ag market, has launched Commercial Analytics, a platform developed specifically for Ag Retailers. It combines data integration and data science capabilities to help businesses make data-informed decisions that will maximize revenue.

Graeme McCracken, MD at Proagrica, says: "On average, businesses analyze just over a tenth of the data they hold across all sources. This is a huge wasted opportunity - especially for sales. ERP systems offer the potential to generate a wealth of valuable data, but translating this into actionable insight is no easy task.
"Commercial Analytics combines Proagrica's technical expertise with its specialist agricultural knowledge to help Ag Retailers unlock the power of the sales data they already own. It empowers these businesses to transition from reactive decision making to proactive strategies that will help future proof their offer."
The platform integrates and extracts sales data from across a retailer's ERP systems. The technology is system agnostic, working with the existing tech infrastructure to bring together data that has previously been held in siloes.
Commercial Analytics standardizes, cleans and enriches the data to make it suitable for analytics. This produces reliable, consistent and valuable insights that are delivered through intuitive and flexible dashboards. These enable users across the organization to identify and take advantage of opportunities and also to respond to business challenges.
The platform comprises five core modules, which can be used individually or in combination to suit the particular needs of the user, these are:
• Customer Insights - provides a full view of customer sales data on a macro and micro level. Used to review the full customer landscape, maximize customer spend, and track loyalty.
• Sales Team Insights - metrics for sales managers that focus on sales team performance against targets on an aggregate or individual basis. As well as giving the salesperson visibility of their own performance to take charge of their own success.
• Sales Insights - a consolidated, up-to-date and reliable view of sales figures across the whole business.
• Product Positioning - offers full visibility of the product journey, from order to invoice. Identifies inefficiencies to improve customer order fulfilment and patterns of late payment.
• Pricing Insights - enables centralized tracking to guide pricing and purchasing decisions. Allows users to set a pricing framework across the whole organization to better manage margins.
McCracken concludes: "Commercial Analytics is an extremely flexible platform, the use cases and the opportunities scale in line with the amount and type of data fed into the system. In automating data integration and processing, it drives efficiencies and reduces time lost to human error - a key issue in a sector so governed by seasonality.
"Sales teams don't need to change the ways in which they operate, rather it demonstrates the value they offer and complements their skill and knowledge. It allows them to focus on strategy, identify new opportunities and build even stronger working relationships with their growers."
For more information, please visit: https://proagrica.com
ENDS
About Proagrica
Proagrica, part of RELX Group, is a global provider of independent connectivity and data-driven support solutions for the agriculture and animal health industries.
It delivers actionable intelligence to drive business growth across the value chain. Proagrica's superior products and services connect and empower industry participants to address their key needs around trading, productivity and compliance.
Proagrica's solutions are built around the key competences of data connectivity and data analytics delivering seamless supply chain management, customer insight and engagement, essential for businesses looking to improve their value offering and expand in the modern marketplace.
Proagrica.com
About RELX
RELX is a global provider of information-based analytics and decision tools for professional and business customers. The Group serves customers in more than 180 countries and has offices in about 40 countries. It employs over 30,000 people, of whom almost half are in North America. The shares of RELX PLC, the parent company, are traded on the London, Amsterdam and New York Stock Exchanges using the following ticker symbols: London: REL; Amsterdam: REN; New York: RELX. The market capitalization is approximately £37.2bn, €41.1bn, $45.6bn
RELX.com
Featured Product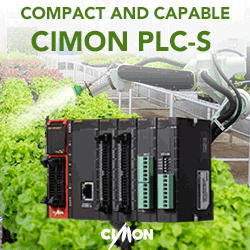 CIMON-PLC is an industrial control device based on international standards of IEC61131. It is designed for a plant site that requires industry-leading reliability. CIMON-PLC is optimized for Industry 4.0 and enhances the intelligence of industrial sites.