Second Generation Hawkeye® Nozzle Control System Now Available for Order
Raven Industries, Inc. (the Company; NASDAQ:RAVN) announced today the release of its Hawkeye® 2 Nozzle Control System. Available to order today, the system offers users unparalleled spray performance in agriculture — improving efficiency and reducing input costs.

During rigorous testing, Hawkeye 2 proved unmatched uniformity and consistency across the sprayer boom, outperforming the nearest competitors by up to 250%. This reduces drift and increases application quality. Additionally, individual nozzle control and turn compensation eliminates skips, overlaps and misapplication in the field. Hawkeye 2 earned validation from the prestigious European testing organization, Julius Kühn-Institut, and secured a partnership for the company with a strategic international OEM.
"After running Hawkeye 2 for a season, I'm 100% convinced it was the right way to go," said Lance Bell, a beta tester from Weldon, Iowa. "We mapped and sprayed across every waterway — the individual nozzle control worked great. Our usage of chemical was down, and our productivity increased a ton. Using Hawkeye 2 to set and maintain a consistent pressure, we were able to adjust for how the wind was blowing that day to stay consistent."
"Hawkeye 2 offers optimal accuracy and is simple to use and maintain," said Brian Meyer, Vice President of Raven Applied Technology. "This advanced solution enables operators with the capability to perform complex applications with ease and consistency across the boom. This reduces operator fatigue, optimizes input costs and increases application quality.
"Hawkeye 2 builds on Raven's commitment to sprayer efficacy. Increased flow per nozzle and variable PWM frequency provide our customers the ability to dynamically compensate to the varying conditions of agriculture."
Hawkeye 2 is internationally available for order today. Users interested in learning more can visit ravenprecision.com/hawkeye2.
About Raven Industries, Inc.
Raven Industries (NASDAQ: RAVN) is dedicated to providing innovative, high-value products and solutions that solve great challenges throughout the world. Raven is a leader in precision agriculture, high-performance specialty films, and lighter-than-air technologies. Since 1956, Raven has designed, produced, and delivered exceptional solutions, earning the company a reputation for innovation, product quality, high performance, and unmatched service. For more information, visit https://ravenind.com.
About Raven Applied Technology
Raven Applied Technology is helping feed a growing population by delivering impactful technology that improve agricultural efficiency for custom applicators and growers around the world. From field computers to sprayer and planter controls, GPS guidance steering systems, wireless and logistics technology, Raven provides precision agriculture products and solutions designed to reduce operating costs and improve yields.
http://ravenprecision.com
Featured Product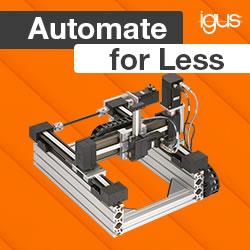 There are a lot of factors to consider when designing a bearing pivot, including lifetime, machine purpose, loading capabilities, and environment. However, the most crucial element is knowing how corrosion, the number one cause of pivot failure, affects the housing, shaft and bushing. Read this blog post to learn how you can achieve a successful, maintenance-free pivot design.