Only buying a good tractor isn't enough one must know how to ride it safely and keep it away from dangerous accidents to make it really useful and productive. Sometimes our small mistakes or just a little ignorance towards safety measures results in deadly accidents. So, here are some safety tips for you that can save you and your tractor from these accidents.
1. Before starting make sure you are able to reach all the controls easily and you have a comfortable seat with a secured seat belt.

2. Never try to start tractor from the ground, only start it from the driving position and never get off from a tractor while it's in motion.
3. Always park your tractor on flat ground after making sure your park brakes work nicely and take your tractor keys with you after parking. Parking tractors on a steep slope can result in dangerous accidents.
4. It is better to slow down your speed at turns or before applying brakes as well as it is always better to operate your tractor on a low speed so you can control your tractor if something sudden and unexpected happens.
5. Don't try to use it with implements on steep slopes and it's better to reversing up and than driving forward on steep slopes.
6. If you live somewhere near the hillside it's better to use wide wheel tracks.
7. Make sure your seat protects you from tractor vibrations and it is comfortable for your back as well as your footwears have a good grip while operating the tractor.
8. Ensure that no part of your tractor is damaged and every part especially brakes works nicely as well as there is the proper air pressure in your tyres.
9. Always make sure that the guards are in place like PTO and Master Shield Guards.
10. As well as you should keep it away from children and only let people who are properly trained to use it.
We hope you keep these safety tips in your mind and keep yourself away from any type of accidents.
Featured Product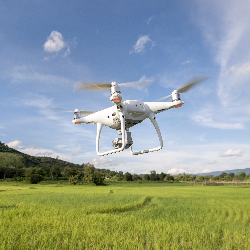 This is today's agriculture: Tractors drive autonomously and the cultivation of fields can be carried out precisely and plant-specifically. Drones record the condition of the soil and crops from the air. Robots assist in milking, feeding, and monitoring animals. MVTec's machine vision software helps farmers realize these and other applications and confidently face many of today's modern agriculture challenges.