Flexible control valve features fail-safe function and easy maintenance.
RTK®, a CIRCOR International brand, and an international leader in the design and manufacture of control valves and actuators, introduces the REflex Quick Change Seat Control Valve with REact 30 DC-PoP smart actuator, a flexible all-in-one solution for noise reduction and high pressure drop applications.

The REflex QCS Control Valve assembles and disassembles in four quick steps without the need for special tools, accelerating maintenance by up to 85% for efficiency and cost-savings. Plus, tool-free seat exchange allows for quick adaptation to changing conditions. Featuring optimized high-capacity flow paths and interchangeable trim, the two-way REflex QCS Control Valve supports a variety of media and meets NACE standards for use with abrasive liquids and gasses.
The REflex QCS Control Valve is high customizable for lower flow and higher pressure drop and available in one- or two-stages, as well as a range of sizes, pressure classes, and end connections types. All REflex valves are available either as ANSI or DIN, ensuring that direct replacement is always possible. Ideal for power, process, industrial, chemical, petrochemical, LNG, refrigeration technology, and oil and gas applications, these valves excel at control and shut-off of liquids and gases, feedwater boiler filling, superheater start-up, and as relief valves.
The REact 30 DC-PoP actuator equips the REflex QCS Control Valve with innovative smart valve technology to ensure system safety in any situation. When operating in normal conditions, the REact 30 DC-PoP's intelligent high-efficiency brushless DC motor can be adjusted to four separate speeds for energy savings and precision. These systems are also easily interconnected for remote monitoring. Then, in case of power failure, the two system-saving functions—the standard Emergency Closing Unit and a Power off Positioning module—smoothly opens or closes to a predefines safety end position. Automatic return to closed loop control is possible without any external components or wiring, ensuring that the valve resumes normal duties as soon as the plant returns to normal operations.
For more information about the RTK® REflex QCS Control Valve and REact 30 DC-PoP actuator, visit www.circor.com/rtk.
###
About RTK® and CIRCOR International, Inc.
CIRCOR RTK® is an international leader in the design, manufacture, distribution, and service of control valves and related equipment. In its fourth decade, the company continues to engineer innovative and reliable control technology for optimization of customer control circuits. CIRCOR RTK® produces high-quality control and shut off valves ideal for industrial, process, petrochemical, and power applications. It also offers effective electric and pneumatic linear actuators, sensors, and controllers. For more information about RTK® products, visit www.circor.com/rtk.
CIRCOR International, Inc. designs, manufactures and markets differentiated technology products and sub-systems for markets including oil & gas, industrial, aerospace & defense and commercial marine. CIRCOR has a diversified flow and motion control product portfolio with recognized, market-leading brands that fulfill its customers' mission critical needs. The company's strategy is to grow organically and through complementary acquisitions; simplify CIRCOR's operations; achieve world class operational excellence; and attract and retain top talent. For more information, visit the company's website at www.circor.com.
Featured Product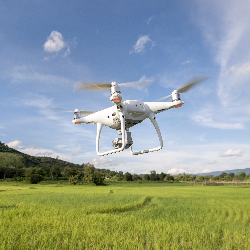 This is today's agriculture: Tractors drive autonomously and the cultivation of fields can be carried out precisely and plant-specifically. Drones record the condition of the soil and crops from the air. Robots assist in milking, feeding, and monitoring animals. MVTec's machine vision software helps farmers realize these and other applications and confidently face many of today's modern agriculture challenges.